Family Law
Family lawyers work to resolve conflicts that arise in the context of the family: divorce and separation, family violence, child custody, abuse and neglect, adoption, and juvenile justice. They perform a valuable service in protecting the legal rights of family members and in helping parents and children plan productively for their futures.
The law regulating the family is complex and rapidly evolving. In many states, family-related issues are heard in a specialized court with a mission to promote the best interests of children.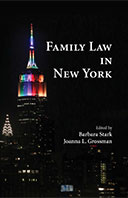 Family lawyers represent children and parents who are experiencing crisis; therefore they need to be compassionate, have good judgment and have strong interviewing and counseling skills.
They also need to be comfortable working in an interdisciplinary environment because contemporary family law practice increasingly incorporates a wide variety of dispute-resolution procedures and is populated by professionals from multiple disciplines. Family lawyers will often find themselves consulting with professionals from the fields of psychology, social work, family counseling and finance, and they regularly encounter mediators and collaborative professionals.