Wilbur F. Breslin Center for Real Estate Studies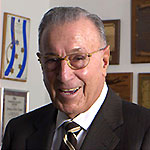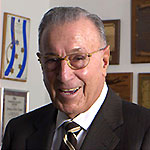 The Wilbur F. Breslin Center for Real Estate Studies is designed to meet the need for education and training of attorneys in the complex field of real estate law, offer instruction for and foster relationships between real estate professionals, and provide a center of excellence for the interdisciplinary study of real estate business and law.

January 24 | 4-6 p.m. | Leeds Brown Atrium, Hofstra Law School
Launching the Wilbur F. Breslin Center for Real Estate Studies at the Maurice A. Deane School of Law at Hofstra University
Featuring a Conversation with Wilbur F. Breslin
The program will feature a conversation between Mr. Breslin and Judge Prudenti, followed by a Q&A session with law students, alumni and members of the real estate community, and a cocktail reception.
---

March 12 | Noon-2 p.m. | Room 230, Hofstra Law School
Pathways to Real Estate Practice
Co-sponsored by the Long Island Real Estate Group and Hofstra's Law Student Real Estate Association
This multidisciplinary panel will feature developers, commercial and residential brokers, title companies, surveyors, engineers, commercial banks and local municipal officials. Panelists will introduce students to various segments of the real estate industry and describe multiple opportunities for career development.
---

April 3 | 8:15 a.m.-Noon | Hofstra University Club
Prospects of Real Estate and Alternative Investments: 2019 and Beyond
Co-Sponsored by the Zarb School of Business 
This full-day conference brings together world renowned academics, economists and real estate professional to offer a national and international perspective on real estate investment opportunities.
---

September 24 | 6:30-8:30 p.m. | Cushman & Wakefield
The Climate Mobilization Act: What Landlords and Tenants Need to Know Networking and Panel Discussion
Co-Sponsored by Cushman & Wakefield
Earlier this year, the New York City Council passed the Climate Mobilization Act — a series of bills designed to dramatically reduce the carbon footprint of buildings across New York City. The Act requires buildings above 25,000 square feet to meet strict greenhouse gas emissions limits starting in 2024. Our panel of experts will discuss the impact of this law on NYC landlords and tenants.
---

October 7 | 5:15-9:30 p.m. | Hofstra University Club
Land Use Training Program for Municipal Planning and Zoning Officials
Co-Sponsored by the Nassau County Planning Commission 
This free training program focuses on critical issues in local land use, real estate development and municipal governance. The program provides Continuing Legal Education credits for attorneys and AICP Certificate Maintenance credits for planners. It fulfills New York State's training requirement for municipal planning and zoning officials.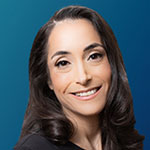 Ashira Pelman Ostrow
Peter S. Kalikow Distinguished Professor of Real Estate and Land Use Law and Executive Director of the Wilbur F. Breslin Center for Real Estate Studies
Professor Ostrow teaches courses in Property, Land Use Law, Real Estate Transactions and State and Local Government Law. Her research focuses on land use and local governance, with an emphasis on the interaction between federal law and local land use policies. Her articles have been published in a wide variety of journals, including the Yale Law Journal, Indiana Law Review, Emory Law Journal, Florida Law Review and Harvard Journal on Legislation. Professor Ostrow has received a number of awards and honors for her scholarship. In particular, she was selected for participation in the Harvard/Stanford/Yale Junior Faculty Forum, was awarded Hofstra University's Lawrence A. Stessin Prize for Outstanding Scholarly Publication, and won the American Association of Law School's Scholarly Paper Competition.
Before joining the Hofstra Law faculty in January 2007, Professor Ostrow worked as a real estate attorney in Davis Polk's corporate department. Her practice included the representation of real estate investment funds, lenders, borrowers, landlords and tenants in sophisticated commercial real estate transactions. Professor Ostrow received her J.D. from Columbia Law School in 2003. While at Columbia, Professor Ostrow was a James Kent Scholar, a Harlan Fiske Stone Scholar and an Editor of the Columbia Law Review. In 1999, Professor Ostrow graduated, summa cum laude, from the University of Pennsylvania with a B.A. in political science.
---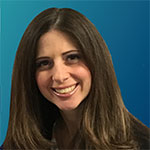 Laura J. Fetter
Program Director, Wilbur F. Breslin Center for Real Estate Studies
Laura Fetter helps to plan and organize the Breslin Center events. She also provides support to the Center in its mission to act as a venue for meaningful networking where industry leaders, students and practitioners can meet, confer and exchange ideas and information on an on-going basis. Laura is also an Assistant Dean of Entrepreneurship and Business Development at the Center for Entrepreneurship and Scott Skodnek Business Development Center (BDC) at Hofstra. In her role as Assistant Dean, she plans programs and events geared toward small business owners and provides technical assistance to clients completing applications for Minority/Women Owned Business Certification for New York State. Prior to joining the BDC, Laura was an Administrative Assistant in the Development Office and also previously worked as a Senior Assistant in the Alumni Relations Office. Laura earned a Bachelor of Arts degree in Psychology from Hofstra University.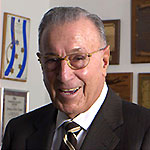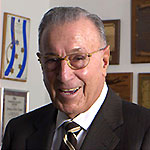 A well-known, highly regarded real estate developer, Wilbur F. Breslin has diversified experience in all facets of the real estate industry. He is the owner and developer of numerous commercial and residential properties in multiple states, and has expertise in construction, land planning, real estate appraising, brokerage, tenant negotiations, property management, and financing. Mr. Breslin made his mark on the tri-state landscape through the development of 12 residential communities, 30 retail centers, and the management of over 10 million square feet of real estate. He is renowned for his creative vision in new development and redevelopment, as well as his unparalleled relationships with tenants, government officials and civic associations. Wilbur Breslin's commitment to turning rundown properties into aesthetically pleasing, prosperous sites has become his trademark.
Wilbur F. Breslin Center for Real Estate Studies
Hofstra University
250 Hofstra University
Hempstead, New York 11549
Email: breslin@hofstra.edu
Phone: 516-463-4069
Fax: 516-463-3907