The Law Library is an integral part of Hofstra Law. The Library's primary goal is to support the curriculum and research needs of our faculty and students.
The Library collection comprises approximately 600,000 print and microform volumes, as well as an expanding number of electronic resources. Its print and electronic holdings include statutes, codes and case law for all state and federal jurisdictions; a comprehensive collection of English language legal periodicals; treatises; encyclopedias; digests; citators; looseleaf services; comparative and international legal materials; and selected foreign legal materials. Additionally, the Library serves as a selective depository for U.S. government publications.
The Law Library has six staff and seven librarians. Five of the librarians hold a JD degree. Our staff strives to provide a high level of service in assisting patrons with collection access and use.
Virtual Library Tour
View brief videos designed to introduce you to the critical areas of the Law Library — we even included a guide to our library web resources!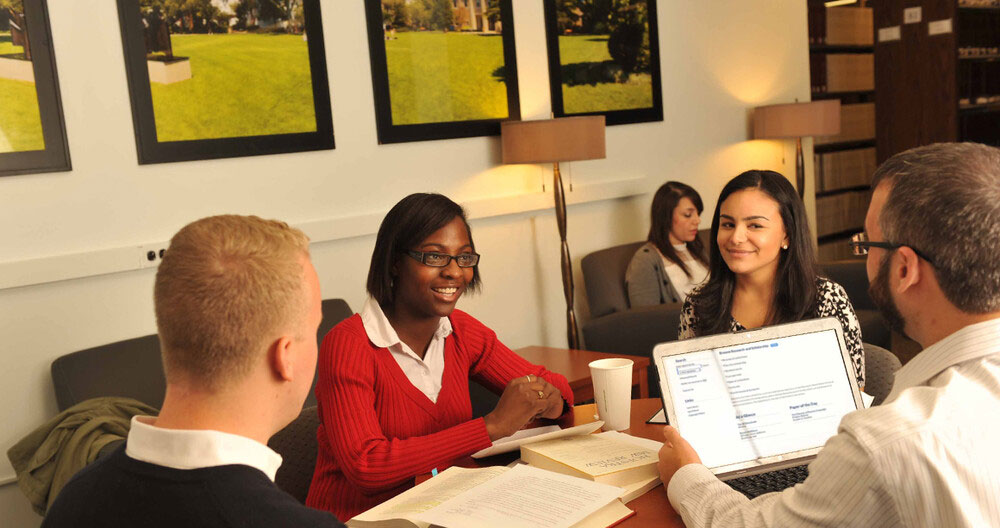 The goal of the library administration and staff is to make the collection as freely available to all patrons as is consistent with proper and equitable use, and to provide a safe and secure space in which the collection may be used. We appreciate compliance with these rules:
You will need a valid Hofstra University ID to enter the library.
The unavailability of Library materials is frustrating to all library users. Please either correctly reshelve books you have used or place them on the reshelving carts located throughout the Library. Your colleagues will appreciate it!
If you need to refer back to library materials, please scan the materials you need.
Please be aware of the different quiet and talking areas within the Library. Within the talking areas, please keep your voices at a low volume. Please step outside into the lobby or use the upstairs lounges for extended conversations.
Cell phones may not be used in the Law Library. All patrons should turn off the ring feature on their phones so that the noise does not disturb other patrons. Conversations on these phones should be carried on outside the Law Library.
If you are planning to use audio on any device, please use headphones.
Please do not write in, underline or otherwise mutilate library materials.
Due to COVID-19, food and drink are not permitted in the Law Library.
The Library does not page patrons nor take messages.
Smoking and the use of all other tobacco products, including electronic cigarettes and vaporizers, is not permitted anywhere in the Library.
Fire alarm drills are periodically performed. Everyone must leave the Library immediately when the fire alarm sounds.
Access to the Hofstra Law Library is limited to:
Hofstra University students, faculty (including emeritus faculty), administrators and staff.
Due to COVID-19, for the Fall 2020 and Spring 2021 semesters the Law Library is only available to the current Hofstra community.
Law School graduates will have swipe-card access until the first bar exam after graduation.
As a temporary safety and health measure due to COVID-19, members of the public who request to use federal depository library materials will not be admitted to the Law Library. For assistance with federal depository library materials, see the Law Library's Government Information Guide.
The Law Library is committed to providing access to Library services to all patrons.
Access and service accommodations for disabled patrons:
Access
All patron areas of the Library are open and accessible to all patrons. Access to the lower levels for disabled persons may be obtained by speaking with a reference librarian or a circulation assistant. Library personnel will escort the patron on a Law School elevator to the lower level(s). Before leaving the patron to continue their research, Library personnel will show the patron the location of a Law Library phone. Should the patron need additional assistance, or should they need to return to the main level of the Library, they may use this phone to contact the Reference Desk or the Circulation Desk.
Patrons requiring assistance for book retrieval from unreachable shelves should contact a reference librarian or a circulation assistant.
Computers
There is an ADA station located in the Library, next to the other public workstations on the main floor. It has JAWS, FSReader, Windows magnifying program, and an on-screen keyboard installed. The station also includes a document camera and attached 27" display for enlarging print materials for viewing.
Microform Readers/Printers
The Library's microform readers are capable of adjusting text size for visually impaired patrons. Any patron needing such text enhancement should contact a reference librarian or a circulation assistant.
Photocopying/Scanning
Patrons may (1) bring their materials to the circulation desk to be photocopied for them or (2) check out the items and take them to the Law School Copy Center for copying. The patron will be given a time for completion and pickup at the time of request; the jobs may not be completed immediately, depending on traffic and already pending requests. The patron will be charged only for the copies; no service charges shall apply. Any patron needing assistance with using scanners should contact a Reference Librarian or Circulation Assistant.
Open Stacks
Most single-volume works circulate for a period of 28 days. Due to the nature of the Law Library's collection, many materials do not circulate outside the Law Library. Among the materials that do not circulate are: primary materials (i.e., statutes, codes, reporters, government documents), periodicals, microforms, material from the loose-leaf section, general reference material, finding aids, and individual volumes from multivolume sets (works comprising two or more volumes).
Audio and Visual Materials
Audio and video materials, including our popular film collection, are held on reserve. This material circulates for a period of three days unless the material is being held for course reserve. Course reserve audio and video materials can be checked out for 3 hours.
Reserve Material (other than A/V above)
Items held on Reserve must be used in the Law Library. This material circulates for a period of three hours. Reserve items may be renewed once for the same amount of time as the original loan period. However, they may not go out overnight.
Office of Career Services Material
Office of Career Services (OCS) titles are available for use by current law school students only. Students accessing OCS material may either use them in the OCS office or check them out directly from OCS. As is standard, a current law school ID is required to check out material from the Library.
Renewals
Items checked out for 28 days may be renewed once for an additional 28 days and are subject to recall. Items can be renewed by phone (Circulation Desk at (516) 463-5898), in person or online at http://library.hofstra.edu/patroninfo. Overdue items may not be renewed.
Recalls
If a borrowed item is requested by another patron, it may, at the librarian's discretion, be recalled after 14 days of the initial 28 day loan period or at any time during the 28 day renewal loan period. If an item is recalled, the original borrower will be notified by email or phone, and is expected to return the item to the Law Library within three days.
Overdue Policy
If an item borrowed for 28 days is not returned by its due date, a reminder notice will be sent to the borrower's Hofstra email account that day. The borrower will be given a three-day grace period to return the item before a fine begins to accrue. This notice is a courtesy. Whether or not the notice is received, the patron is responsible for returning the item when due. If the material is not returned within two weeks of the due date, the material will be deemed as lost.
Reserve material will be deemed lost if not returned within 48 hours of the due date.
Outstanding Fines
Borrowing privileges may be revoked once a patron has accumulated $25 in fines. Unpaid fines could result in the student being blocked from registration, graduation, or acquiring a transcript after graduation.
Fines for Overdue and Recalled Items
Books that circulate for 28 days: $.50 a day for 14 days. After that it is considered lost and assessed a $105 replacement fee.*
Reserve items, including DVDs, which circulate for three hours: $.25 an hour for 48 hours. After that it is considered lost and assessed a $105 replacement fee.*
Popular DVDs and Audio/Visual items, which circulate for three days: $1 a day fine for four days. After that it is considered lost and assessed a $105 replacement fee.*
*All replacement fees will be waived if the item is returned in a timely manner after assessment.
The Law Library is dedicated to providing the resources required by the Hofstra Law community to support and promote exceptional learning, teaching, scholarship and legal practice. Our collection development policy outlines the ways in which we strive to meet these goals through the careful selection and provision of library materials. View the Collection Development Policy (PDF).
The Law Library provides interlibrary loan service for Hofstra Law faculty and students. Materials needed for research not owned by Hofstra Law Library or Axinn Library can often be borrowed from other libraries through interlibrary loan. The Law Library does not obtain leisure reading materials on Interlibrary loan, nor does it obtain casebooks or other texts required for classes. As a participant in the OCLC online interlibrary loan network, the Law Library has access to the resources of hundreds of law and non-law libraries nationwide. Obtaining materials through interlibrary loan takes an average of 7-15 working days. Ask a reference librarian for assistance if you cannot locate the material you desire in the Law Library. To make an interlibrary loan request online, please use the ILLiad system.
The Law Library is requesting material on behalf of the student. The student is responsible for any fines or fees that are a result of overdue or lost/damaged materials.
For Use by Hofstra University Students and Faculty Only
Hofstra University students and faculty can recommend that an item be added to the Law Library collection by emailing lawlib@hofstra.edu. In your email, please include the book title, author, ISBN (if known), publisher, year or edition and a date when needed.
Do not use collection recommendations as a substitute for interlibrary loan. Your suggestion will be seriously considered, but will not automatically be ordered.
Have Something to Say?
If you want to give us a suggestion or leave us a comment, please feel free to email lawlib@hofstra.edu.
Nassau Supreme Court
100 Supreme Court Drive
Mineola, NY 11501
Phone: (516) 442-8580
Fax: (516) 571-0752
Supreme Court Law Library/Central Islip
John P. Cohalan, Jr. Courthouse
400 Carleton Avenue, 4th Floor
Central Islip, NY 11722
Phone: (631) 740-3961
Supreme Court Law Library/Riverhead
Arthur M. Cromarty Court Complex
210 Center Drive, 1st Floor
Riverhead, NY 11901
Phone: (631) 852-1887
For lawyer referral, contact the Nassau County Bar Association at https://www.nassaubar.org/need-a-lawyer/ or at (516) 747-4832.
Please do not leave personal belongings in the Library when departing the Library for any reason. All students should have an opportunity to study at an unoccupied seat.
Personal property left in the Library and delivered to Library personnel will be delivered to the Student Affairs Office in Room 203.
Connect With The Library
Library Hours
Access to the Hofstra Law Library is limited to Hofstra University students, faculty, administrators and staff.
Library Tours
View brief videos designed to introduce you to the critical areas of the Law Library.
Contact Us
Law Library
122 Hofstra University
Hempstead, NY 11549
Circulation Desk
(516) 463-5898
Reference Desk
(516) 463-5908
Text Message
(516) 570-8808