Hofstra Law
Center for Legal Advocacy
The E. David Woycik, Jr. Intensive Trial Techniques Program
The E. David Woycik, Jr. Intensive Trial Techniques Program offers students a unique opportunity to develop core litigation skills through a short-term, highly focused, hands-on course. This intensive "immersion" program uses a concentrated curriculum and extremely low faculty-student ratio — typically one faculty member for every five students — to provide basic training in all of the fundamental lawyering skills involved in civil and criminal trials.
The program is based upon the proven intensive methodology initially developed by the National Institute for Trial Advocacy (NITA) for practicing lawyers. This course is given on seven consecutive days in January during the winter intersession. Attendance is required and is taken daily. The program is open to second- and third-year students who have completed the basic course in Evidence.
Students learn the essential aspects of courtroom litigation, including opening statements; summation; direct and cross examination; documentary evidence and expert testimony. The critical skills of settlement negotiation are introduced, as is the essential pretrial discovery technique of the deposition. During the program, students conduct trials, and the students' performances are individually reviewed by experienced attorney-teachers and by professional actors.
The program first focuses on the core skill of trial advocacy — witness examination. Students conduct direct and cross-examinations. To be successful, students must learn to develop a theory of the particular examination, decide on an appropriate approach to bring out the facts consistent with the theory, prepare the witness and, only then, conduct the examination. Students must also anticipate evidentiary objections and defend their positions when objections are made by others in the class or the instructor.
After practicing simple direct, cross- and redirect examinations, students then prepare and demonstrate problems that require laying a foundation and introducing into evidence various types of exhibit material, including documents, photographs, X-rays, maps, charts, reports and physical objects. Further problems require students to prepare and conduct closing statements.
Once proficiency is established in basic techniques of examination, the problems become quite complex, requiring intensive preparation. Substantial evidentiary issues are built into each problem to develop the student's proficiency in making and defending against objections. Students learn how to develop fact-driven case theories upon which they will build their trial cases.
Once students master the art of witness examinations in order to gather the facts necessary to prove their theories to the jury, they are asked to communicate those theories by exploring and performing the elements of opening and closing statements. Students practice their courtroom skills by conducting two trials that serve to integrate all the skills they have acquired during the program.
Students also are trained in client counseling and negotiation theory. They develop planning skills essential to successful negotiating. Students then practice these skills by counseling clients and engaging in negotiations involving complex issues.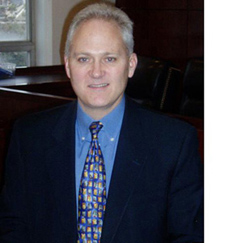 In 2005, Hofstra Law renamed its Trial Techniques Program The E. David Woycik, Jr. Intensive Trial Techniques Program in appreciation for his outstanding contributions to the Law School, his achievements in the legal field and his many charitable endeavors.
Upon his graduation in 1979, Woycik began his legal career as an assistant district attorney in Suffolk County. He was appointed as a special U.S. attorney for New Jersey in 2003. He is now a partner in the law firm of Sanders, Sanders, Block, Woycik, Viener & Grossman, P.C., in Mineola, New York, specializing in personal injury, construction, highway design and toxic tort cases.
Woycik has distinguished himself as a guest lecturer for the New York State Bar Association, Nassau County Bar Association and the American Trial Lawyers Association. He has obtained numerous million-dollar verdicts and settlements for his clients throughout all the courts in the New York metropolitan area.
He is also a colonel, U.S. Army Reserves, Judge Advocate General Corps, and served overseas in Desert Storm and Operation Enduring Freedom in the war against terrorism. He was awarded the Bronze Star and Meritorious Service Medal with two Oak Leaf Clusters for his service.
Woycik was recognized as Hofstra University Alumnus of the Year in 1998 and received Hofstra Law's Distinguished Alumnus Award in 2005.
Director
Barbara Barron
Professor of Skills, Faculty Advisor to Moot Court Board, Director of the Trial Techniques Program, and Director of Student Advocacy Programs