Mark your calendars!
24th Annual Public Justice Foundation Auction
March 14, 2013
Register
Congratulations to Putnam County District Attorney Adam B. Levy '92, 2013 PJF Outstanding Alumnus Award recipient!
On behalf of Hofstra Law, the Public Justice Foundation would like to thank everyone who so generously contributed to making last year's Public Justice Foundation Auction such a success. Through your generous support, we raised a record-breaking $74,381! We could not have done it without your help! Thanks to you, many of our students will be able to participate in summer internships in the public sector, which would have been impossible without financial assistance.
Kamran Yaghoubzadeh
President, Public Justice Foundation
View photos of the 2012 auction.
---
| | |
| --- | --- |
| | The Foundation very much welcomes monetary donations. Please help us ensure that Hofstra Law students can continue to contribute to the pursuit of public justice by making a monetary donation. All donations are tax-deductible to the extent allowed by law. |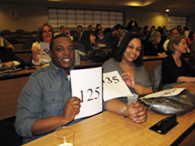 Last year, your donations funded 51 Public Justice Foundation fellowships. We hope to double that number this year. Read about how a few of our fellows provided vital legal services to the most underprivileged members of our community:
Courtney DeWitt '11 — Disaster Accountability Project, West Hartford, CT

Because of my PJF Fellowship, I had the opportunity to work with the Disaster Accountability Project (DAP) last summer. DAP is a nonpartisan, nonprofit organization dedicated to the improvement of the United States disaster management systems. As an intern, my work involved tracking the implementation of Post-Katrina Emergency Management Reform Act initiatives, with special attention to initiatives concerning mass care services for individuals with disabilities. My summer experience gave me the chance to draft policy recommendations for the National Disability Coordinator position (within FEMA), and I worked with leaders of national disability rights organizations to review proposed legislation, the Office of Disability Coordinator Act. My experience was very rewarding and has motivated me to learn more about Administrative law in my coursework this year.

Douglas Arnett '11 — Innocence Project, New Orleans, LA

As an intern at the Innocence Project, I investigated claims of factual innocence by prisoners, interviewed witnesses in order to prove factual innocence, and conducted legal research to support factual innocence claims of relief.

Pani Vo '11 — Unemployment Action Center, New York, NY


Working for the Unemployment Action Center, I had the opportunity to represent clients who had their unemployment insurance benefits denied during hearings in front of an administrative law judge. I prepared the clients for their hearings and advocated before their previous employers and lawyers. I developed real litigation skills, but most importantly, I had the opportunity to really help those who otherwise would not have had the opportunity to be heard.
If you have any questions or concerns, please contact the Public Justice Foundation by emailing PJFLaw@hofstra.edu or calling us at 516-336-9PJF.
---
The Public Justice Foundation is Hofstra Law's public interest law student organization. The objectives of foundation are twofold: first, to raise awareness about public sector law practice by facilitating student employment in the area and, second, to expose the Law School community to important legal issues through debate and discussion.
The Public Justice Foundation holds various fundraisers, including an annual goods and services auction. The auction is our principal fundraiser, with 100 percent of the money raised going to support summer fellowships for Hofstra Law students. These fellowships enable recipients to take non-paying jobs in the public sector that they otherwise would be unable to accept due to financial constraints. In furtherance of our second objective, the Public Justice Foundation has sponsored debates on prisoners' rights, the policy and constitutionality of "hate crimes" legislation, the Clarence Thomas nomination and "Clintonomics."
Fellowship recipients have worked at some of the following places: Nassau/Suffolk Law Services, District Attorney's Office, U.S. Attorney's Office, Equal Employment Opportunity Commission, U.S. Department of Justice, New York State Division of Human Rights, New York City Gay and Lesbian Anti-Violence Project, South Brooklyn Legal Services, New York Legal Assistance Group, Legal Assistance Corp. of Massachusetts (Family and Child Department), Domestic Violence Coalition, Public Defenders Office and many, many more.