Date: Sep 19, 2012
Location: Sidney R. Siben and Walter Siben Moot Courtroom, Room 308, South Campus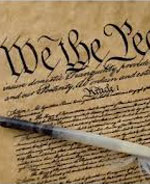 The Maurice A. Deane School of Law at Hofstra University presents "Constitution Day: Constitutional Precedent in the Aftermath of the Supreme Court's Decision in Nat'l Fed. Of Indep. Business et al. v. Sebelius (2012)," with Professors Robin Charlow, Eric M. Freedman, Leon Friedman, Julian Ku and Deborah Misir.
Wednesday, September 19, 2012, 12:10-2 p.m.
Sidney R. Siben and Walter Siben Moot Courtroom, Room 308
Hofstra Law, Hempstead, N.Y.
Panelists will discuss highlights of the recent health care decision with a focus on what the case portends for future constitutional doctrine and analysis.