Law, Logic & Technology Research Laboratory
Center Director and Contact:
John Tsiforas, Director of Law & Technology, Director of Distance Education, Director of Analytics, and Visiting Assistant Professor of Law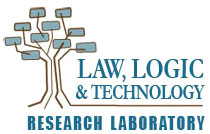 The Law, Logic & Technology Research Laboratory is dedicated to inventing and making available tools that make legal practice and legal education more effective and more efficient. This effort includes:
First, combining our logic investigations with state-of-the-art technology to create tools that can increase the efficiency of decision-making processes in society;
Second, creating methods for training legal decision-makers and legal practitioners, as well as researchers and students, in the use of logic skills; and
Third, developing management structures for coordinating teams of researchers, and for ensuring the quality of their research products.
Article Introducing the LLT Lab's Research in 2010
This article, published in December 2010, provides an overview of the LLT Lab's methodology and then-current research.