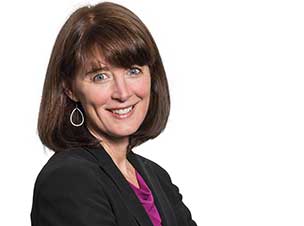 Jennifer A. Gundlach
Clinical Professor of Law 
B.A., Kenyon College
J.D., American University Washington College of Law
Phone: 516-463-4190
Fax: 516-463-6091
Email: Jennifer.Gundlach@hofstra.edu
Biography
Jennifer A. Gundlach received her B.A. degree in history from Kenyon College and her J.D. from American University's Washington College of Law. After law school, Professor Gundlach worked as an associate in a commercial litigation boutique. She later transitioned to plaintiffs' class action litigation at Cohen, Milstein, Hausfeld & Toll in Washington, D.C., where she participated in the first trial of a class action lawsuit under the Americans With Disabilities Act and represented the respondents before the Supreme Court in Carmichael v. Kumho Tire Co., a landmark case involving the admissibility of non-scientific expert testimony. She later worked as a Policy Analyst at People For the American Way, where she monitored, researched, and reported on litigation, legislation, and community activities involving First Amendment rights to religious liberty and the separation of church and state in public school education.
Professor Gundlach began her teaching career at American University's Washington College of Law in 2000, first as an adjunct professor in the Legal Methods first-year curriculum and then as a Practitioner-In-Residence in the Civil Practice Clinic. From 2002-2007, she was an Associate Clinical Professor of Law at Suffolk University Law School in Boston, MA. In addition to teaching Professional Responsibility, Professor Gundlach created and developed the Disability Advocacy Clinic, a program in which she supervised law students' representation of indigent clients with disabilities in administrative, state, and federal court proceedings.
Professor Gundlach's scholarship and presentations have drawn on recent developments in social science and educational theory to inform and improve law school teaching and curriculum reform. In addition, she has presented at workshops and conferences on issues involving professional responsibility and legal ethics, as well as disability law.
She is the former Chair of the American Association of Law Schools' Section on Mental Disability and the Law and is also active in the Section on Clinical Legal Education. She regularly serves on behalf of the American Bar Association on law school accreditation site teams. She has been active in local bar associations and is a past chair of the Boston Bar Association Ethics Committee.  She currently serves on the boards of the New 42nd Street Corp. and the David L. Bazelon Center for Mental Health Law.