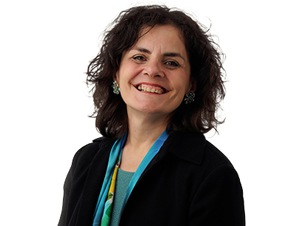 Juliana Campagna
Professor of Legal Writing and Associate Faculty Director of International Programs
B.A., Mundelein College (currently Loyola University)
M.A., University of Illinois
J.D., Chicago-Kent College of Law
LL.M., The John Marshall Law School
Phone: 516-463-5933
Email: Juliana.Campagna@hofstra.edu
Biography
Juliana Campagna joined the law school faculty in 2010. She teaches Legal Analysis, Research and Writing to first year J.D. students, and also teaches specialized legal research and writing courses to non-U.S. law students at the Maurice A. Deane School of Law and in the school's online master's in American law and legal studies programs. For the past two years, she has taught Export Law and Export Policy in Havana (Cuba) over the spring break.
Juliana graduated from Chicago-Kent College of Law (J.D.) and later did an LL.M. in International Business and Trade Law at the John Marshall Law School, also in Chicago. She is admitted to practice in Illinois. She has studied, practiced, and taught law and U.S. legal writing in Europe, Asia and Latin America.
Juliana is essentially a transactional attorney, but has argued a few times in the United States Tax Court. In practice, she worked at a large international law firm before opening her own boutique firm. Before teaching at Hofstra, Juliana taught at the John Marshall Law School in Chicago. She is the immediate past-chair of the International and Foreign Law Committee of the Chicago Bar Association, where she hosted foreign lawyers and judges as guest speakers for practicing lawyers every month. She was also General Counsel to Illinois TESOL, the professional organization of teachers who teach the children who come from Illinois homes speaking over 120 languages. Juliana has a bachelor's degree in Spanish and Church History; a master's degree in French; and a second master's in Linguistics, with a specialization in teaching English as a Second or Foreign Language (ESL / EFL). She completed her Ph.D. coursework, but not her dissertation, in Italian, specializing in philology and semiotics.
Before going to law school, Juliana worked as a translator, language teacher, and instructional designer. She worked for the former international audit and tax firm, Arthur Andersen, for seven years. She was one of the founding designers and developers of Andersen's in-house Business English Immersion Training Program, which was offered to firm managers, partners and clients throughout the world.
Juliana speaks widely on issues pertaining to language and law. She also likes to exchange concrete teaching ideas and activities at legal writing conferences. She has spoken at the Conference of the American Association of Law Schools; the Global Legal Skills Conference; and the Legal Writing Institute Biennial Conference. She is an active member of the Legal Education Committee of the International Law Section of the American Bar Association, a standing committee. She has also served on the planning and programming committees for the annual meeting of the ABA's International Law Section, and will do so again for the upcoming meeting, to be held in New York in April 2014. She has spoken to the American Association of Translators on issues concerning the legality of translation and interpretation during torture.
Juliana has published articles in both scholarly and practitioner journals. These include, respectively: War or Peace? It's Time to Ratify the 1954 Hague Convention for the Protection of Cultural Property in the Event of Armed Conflict, 17 FLA. J. INT'L L. 271 (2005); and In Vino Veritas, Mercatum, Conventio: U.S. Wine Trade Agreements, INT'L L. NEWS, SEC. OF INT'L L. & PRAC., A.B.A., Vol. 36, No. 2, at 8 (Spring 2007). She has been a deputy editor to The International Lawyer, Year in Review, a publication of the ABA Section of International Law, since 2008. While working in Beijing in 2005, she self-published ENGLISH FOR LAWYERS: KEY STRUCTURES NEEDED BY LAWYERS TO PROTECT THEIR CLIENTS IN THE ENGLISH LANGUAGE.
Her greatest interest, at present, is comparative legal education. In 2009, at the Global Legal Skills Conference at the Georgetown Law Center, she gave a presentation on Examinations in Civil Law Countries: Experience and Expectations of Foreign Law Students. This presentation came out of a worldwide survey she had conducted with her co-presenter, Professor Radka Chlebcová, of the Law School at Masaryk University, in Brno, Czech Republic. The survey and presentation focused on law school examination questions. Juliana has now broadened this study to include the answers and analyses expected of students in law schools and on bar examinations throughout the civil law world. She will present her findings at the next Global Legal Skills Conference, and then plans to publish them.
 Conference Presentations