Student Life
Public Justice Foundation Auction
Mark your calendars!
29th Annual Public Justice Foundation Auction
NEW DATE: Wednesday, March 14, 2018
Silent Auction | Student Lounge | 9 a.m.-6 p.m.
Light Buffet and Drinks | 5:30-7 p.m.
Live Auction | Room 308 | 7-9:30 p.m.
Checks and cash will be accepted at the door. Credit card purchases will be accepted up to 5 p.m. by calling 516-463-6340.
Our 29th annual Public Justice Foundation (PJF) Auction will be rescheduled to Wednesday, March 14th at the law school due to the impending nor'easter hitting the tri-state area tomorrow.
The silent auction will be in the student lounge from 9 a.m.-6 p.m. Light buffet and drinks at 5:30 p.m., and the live auction in Room 308 at 7 p.m. This year PJF will be honoring Professor Leon Friedman with the tenth and final David A. Diamond Distinguished Public Service Award and Jonathan Gradess '73 with the Outstanding Alumni Award. Our very own Professor Albert will serve as the auctioneer.
Past live auction items have included tickets to a Yankees game, a taping of Saturday Night Live, VIP tickets to Live with Kelly and Ryan, and various tickets to concerts and Broadway shows.
The Foundation very much welcomes monetary donations. Please help us ensure that Hofstra Law students can continue to contribute to the pursuit of public justice by making a monetary donation. All donations are tax-deductible to the extent allowed by law.
About Jonathan Gradess '73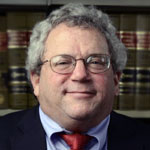 Jonathan E. Gradess was the executive director of the New York State Defenders Association from 1978 until June 30, 2017. He has worked as a criminal defense lawyer, a private investigator and a law school professor.
He is the recipient of numerous awards, including the New York State Association of Criminal Defense Lawyers 2017 Lifetime Achievement Award; Capital Region Chapter of the New York Civil Liberties Union 2016 Carol S. Knox Award; National Legal Aid and Defender Association 2016 Reginald Heber Smith Award; New York Nonprofit Media's Cause Awards, 2016 Overall Sector Support; Capital Punishment Committee of the New York City Bar Association 2016 Norman J. Redlich Award for Capital Defense Distinguished Service; New York State Association of Criminal Defense Lawyers 2002 Gideon Award; and New York State Bar Association Criminal Justice Section 1991 award for Outstanding Contribution to the Delivery of Defense Services. The New York State Assembly honored him with a resolution in June 2017.
He serves on the Restorative Justice Commission of the Roman Catholic Diocese of Albany and the Board of Directors of Equal Justice USA. He was also the executive director of the New York State Defenders Justice Fund and managed its Campaign for an Independent Public Defense Commission.
His career began as a paralegal, thereafter graduating cum laude in 1973 from Hofstra Law's charter class.
Before his retirement, he was interviewed by New York Law Journal about his work with the NYSDA.
---
Your Gift in Action
Elida Alfaro '18, Mental Hygiene Legal Service (MHLS), Second Judicial Department
MHLS is a New York State agency responsible for representing, advocating and litigating on behalf of individuals receiving services for a mental disability. Thanks to the generous contributions of PJF I spent my summer shadowing experienced attorneys, attending court proceedings, meeting with clients, and completing court evaluator reports. My overall experience solidified my passion for courtroom advocacy and contributed positively to my legal education.
Allison Stapleton '18, Nassau County District Attorney's Office, County Court Trial Bureau
With the generous funding that I received from PJF, I was able to spend my summer working full time at the Nassau County District Attorney's Office. During my internship in the County Court Trial Bureau, I was able to witness various court proceedings and help with the preparation of hearings and trials in the Nassau County Court. Specifically, I conducted research and drafted memoranda pertaining to legal issues involving different felony cases. This opportunity was incredibly helpful in affirming my passion for this type of work, and this experience helped me to obtain a position as an Assistant District Attorney after graduation.
---
The Public Justice Foundation is Hofstra Law's public interest law student organization. The objectives of foundation are twofold: first, to raise awareness about public sector law practice by facilitating student employment in the area and, second, to expose the Law School community to important legal issues through debate and discussion.
The Public Justice Foundation holds various fundraisers, including an annual goods and services auction. The auction is our principal fundraiser, with 100 percent of the money raised going to support summer fellowships for Hofstra Law students. These fellowships enable recipients to take non-paying jobs in the public sector that they otherwise would be unable to accept due to financial constraints. In furtherance of our second objective, the Public Justice Foundation has sponsored debates on prisoners' rights, the policy and constitutionality of "hate crimes" legislation, the Clarence Thomas nomination and "Clintonomics."
Fellowship recipients have worked at some of the following places: Nassau/Suffolk Law Services, District Attorney's Office, U.S. Attorney's Office, Equal Employment Opportunity Commission, U.S. Department of Justice, New York State Division of Human Rights, New York City Gay and Lesbian Anti-Violence Project, South Brooklyn Legal Services, New York Legal Assistance Group, Legal Assistance Corp. of Massachusetts (Family and Child Department), Domestic Violence Coalition, Public Defenders Office and many, many more.