Jeffrey Seigel '80
Executive Director,
Nassau/Suffolk Law Services Committee, Inc.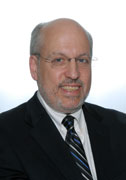 Jeffrey Seigel has been the executive director of Nassau/Suffolk Law Services Committee, or Law Services, since 1999.
Law Services is a nonprofit community-based poverty law program that provides legal assistance in civil (noncriminal) matters to low-income persons throughout Nassau and Suffolk counties. Established in 1966, Law Services was one of the first Legal Services Corporation programs and is now among the largest providers of civil legal services in New York state.
The program is committed to helping the poor vindicate their rights under the law. It provides free legal services in thousands of cases each year, as well as legal support to every agency, religious group and grass-roots organization that works with the poor and persons with disabilities on Long Island.
Which skills that you learned or experiences you had at Hofstra Law have proved most valuable in your work?
We must keep in mind I graduated Hofstra Law School in 1980, which is, of course, 33 years ago. Having said that, Hofstra Law was in its first decade of existence and was known as a progressive school with an emphasis in public interest work. It was that environment which attracted me to the school and enabled me to volunteer as a student at Nassau/Suffolk Law Services.
Were you involved in pro bono work as a student?
Interestingly enough, the only "pro bono" work I've technically done was as a student — I responded to an ad for a volunteer student placed by Nassau/Suffolk Law Services in the spring semester of my first year. I began work there during the summer after my first year of law school.
Please describe your pro bono work.
Nassau/Suffolk Law Services, of course, has paid staff attorneys, paralegals and support staff who represent low-income individuals. We also have established extensive, very successful pro bono projects utilizing volunteer attorneys in collaboration with the two major bar associations on Long Island.
The projects focus on the following areas of representation: divorce and family law, landlord/tenant eviction prevention and consumer bankruptcy. This pro bono work both complements and supplements the work of our paid staff. Our volunteers provide many hundreds of hours of representation devoting time and effort valued at more than $2 million annually.
What is the inspiration behind your pro bono work?
I suppose the inspiration behind our work, simply stated, is the desire to provide access to justice in the court system to those individuals who would otherwise not be able to gain access and, in part, on the pro bono side, of giving something back to our community.
What advice would you offer to prospective students about making the most of their Hofstra Law experience?
I would recommend that students take as large a variety of courses as possible. It may be their only opportunity to be exposed to certain areas of the law. I also would recommend that they take advantage of the organizations, clinical courses and volunteer opportunities available at the school.