Location: Sidney R. Siben and Walter Siben Moot Courtroom, Room 308, South Campus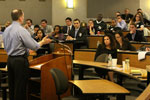 The Maurice A. Deane School of Law at Hofstra University presents "Law School Teach-Ins."
Tuesday, October 16, 9:30 a.m.-3 p.m.
Sidney R. Siben and Walter Siben Moot Courtroom, Room 308
Hofstra Law, Hempstead, N.Y.
These events will be livestreamed.
9:30-11 a.m. | Teach-In 1: The Balance and Tension Between Civil Liberties, Human Rights and National Security
With Professors Robin Charlow, Eric M. Freedman, Leon Friedman, Julian Ku and Interim Dean Eric Lane
More than a decade has passed since the terrorist attacks of September 11, 2001, happened, but the government's determination to do whatever is necessary to stop an attack on the nation has not abated. President Obama campaigned against the broad expansion of surveillance powers authorized by the USA PATRIOT Act at the request of President George W. Bush, but now candidate Romney has found fault with further expansion of such activities by President Obama. These activities have included "shadow wars" in other parts of the world using secret forces and killer drones; new rules of engagement for cyberwarfare; extremely broad efforts to stop government leaks in agencies and departments; the construction of a $2 billion NSA data center, which may have been designed to monitor domestic personal data; and the buildup of an intelligence network The Washington Post has called "so sprawling that it is sometimes hard for its top officials to keep track of it." In 2002, the Gallup organization reported that less than half the American public wanted the government to take steps to prevent additional acts of terrorism unless those steps would violate basic civil liberties. This number had risen to 71 percent in 2011. The experts and advocates on this panel will address the differences, if any, replacing the president could make, and their implications.
11 a.m.-12:30 p.m. | Teach-In 2: What Should the Next President Do to Defuse the Student Loan and Credit Card Debt Bomb?
With Professor Norman I. Silber and Panelists: Tamara Draut, Vice President, Policy & Research, Demos; Ed Mierzwinksi, Consumer Program Director, United States Public Interest Research Group (U.S. PIRG); Elie Mystal, Correspondent, Above the Law.com; and Neal McCluskey, Associate Director, CATO Institute Center for Educational Freedom

The Student Team: Justin Barbetta, Jenelle DeVits, Bernadette Lopez, Mike Murtha and Hersh Parekh
This panel will examine the debate over causes and solutions to the problem of student credit card and educational debt. These two forms of borrowing have grown in leaps and bounds over the last 20 years; last year Americans borrowed approximately $870 billion in student loans and incurred $700 billion in family credit card debt. This credit has been very freely extended by private and public lenders; the funds have sustained better student living standards and they have made schooling possible — but the value added by taking on so much debt is not easily measured, and the terms of the indebtedness and its consequences have been costly. The burden on today's students and their parents is both economic and psychological. Although the problem is large enough now, knowledgeable experts predict that it will soon become as great a financial problem as the unregulated housing market, which dragged down our economy a few years ago. President Obama and Republican candidate Romney have offered conflicting narratives about the nature of the problem and the nature of the solution. Knowledgeable experts have found deficiencies in the proposals offered thus far. The panelists have worked on the problem of student loans and student credit card debt for many years and will offer their own perspectives.
12:30-1:30p.m. | Lunch | Student Lounge
With Professors Janet L. Dolgin, Tracy Dunbrook, Joel Weintraub and George Choriatis '01
The Supreme Court's recent decision in Nat'l Fed. of Indep. Business et al. v. Sebelius (2012), upholding the constitutionality of the Affordable Care Act, has moved the arguments for and against universal health care from the judicial arena to the political sphere. Students are particularly concerned about their access to adequate care and their annual cost of obtaining mandatory insurance. Candidate Romney vows effectively to repeal "Obamacare" on the first day of a Romney administration. Withholding funding for exchanges and delayed rulemaking might effectively prevent implementation. President Obama vows to proceed as soon as possible with the creation of health exchanges, preventive health care measures, permissible Medicaid expansion and other authorized components of the law. While the fight over the ACA continues, there are many problems that that law does not address that require attention. Policymakers will need to develop new approaches to contain costs in the face of an expanded insured population, expand the available pool of health professionals, promote comparative effectiveness studies, accelerate medical research and provide more effective regulation of insurance and pharmaceutical companies. Panelists will review the alternative priorities and methods that election of each candidate would imply.
3-4 p.m. | Question and Answer Session