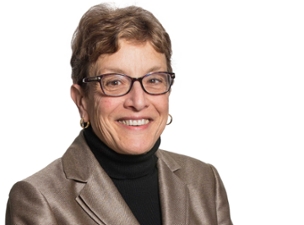 Barbara Stark
Professor of Law 
and John DeWitt Gregory Research Scholar
B.A., Cornell University
J.D., New York University
LL.M., Columbia University
Phone: 516-463-5994
Fax: 516-463-6091
Email: Barbara.J.Stark@hofstra.edu
Biography
Barbara Stark received a B.A. from Cornell, cum laude, a J.D. from NYU, and an LL.M. from Columbia. She has published more than 50 chapters and articles in the California and UCLA law reviews and the Yale, Stanford, Virginia, Vanderbilt and Michigan journals of international law, among others. Since joining the Hofstra faculty in 2005, she has published three books, International Family Law: An Introduction (2005), Global Issues in Family Law (with Ann Estin, 2007) and Family Law in the World Community (with Marianne Blair et al., 2009).
Professor Stark has made more than 65 invited presentations at law schools and professional meetings throughout the world. In April 2004, she gave the Blaine Sloan Lecture in international law at Pace University School of Law, and in 2003-2004 she was a Distinguished Visiting Professor of international law at New England School of Law in Boston. She was the John T. Copenhaver Chair at the University of West Virginia for the fall semester of 2008. In 2009, she was appointed a John DeWitt Gregory Research Scholar and selected to deliver the Hofstra Distinguished Faculty Lecture. She was a Visiting Scholar at Columbia Law School during the 2009 fall semester.
She has served on the Executive Council of the American Society of International Law, and she has served on the executive committee of the AALS Sections of International Law and Family Law. She is a former Chair of the Family Law Section and she currently chairs the Family Law Committee of the International Law Association.
Books
---