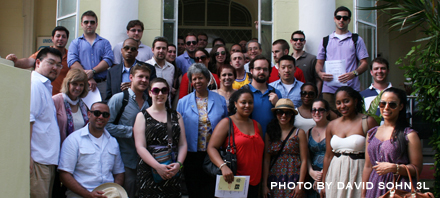 Thirty-seven second- and third-year students from the Maurice A. Deane School of Law at Hofstra University have returned from Havana, where they studied export laws and controls during their spring break and got a taste of life in the communist country.
The participants in the Cuba Field Study Program were among the first to take advantage of the U.S. government's recent relaxation of restrictions on educational travel to the Caribbean island.
"I wanted to see Cuba with my own eyes," said second-year Andrew Damron, who is concentrating on international law.
Damron said that the students came to understand how difficult it is for Cubans to get basic necessities. Even the law school group had trouble procuring simple items like a white board or dry erasers, he added.
"We were able to see a lot of the poverty and the life people are living through that the Cuban government doesn't like for us to see," he said.
The Cubans, Damron said, were "very welcoming" and enjoyed talking about people they knew in the United States as well as their own desire to visit there.
During the March 31-April 7 trip, students took a class, taught by assistant professor Juli Campagna, covering the export controls administered by the U.S. government with regard to Cuba.
Read the full New York Law Journal article
---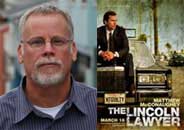 On April 28, the Maurice A. Deane School of Law at Hofstra University is celebrating milestone anniversaries for graduates of '76, '77, '81, '82, '86, '87, '91, '92, '96 and '97. In addition to hosting reunion dinners for each class, we invite all alumni and friends back to Hofstra Law for a day of special events.
The day includes a discussion with Hofstra Law professor and crime novelist Alafair Burke and No. 1 New York Times best-selling author Michael Connelly, author of more than 20 crime novels, including, most recently, The Lincoln Lawyer and The Drop. Books will be available for purchase and signing.
The event also features an address by Dean Nora V. Demleitner and Interim Dean Eric Lane highlighting recent accomplishments and looking toward the future. During the cocktail reception for all alumni and friends we are recognizing Ronald Silverman, Peter S. Kalikow Distinguished Professor of Real Estate Law, who is retiring at the end of the school year.
Visit law.hofstra.edu/Reunion for more information or register now.
---
Public Justice Foundation Sets New Record

This year the Public Justice Foundation, which raises funds in support of summer fellowships for students pursuing non-paid internships in government and nonprofit agencies, raised more than $65,000, surpassing last year's record by $15,000! Early support was generously given by alumni and guests at the 40th Anniversary Gala at Yankee Stadium, followed by our New York City In Honor of Justice Reception and our successful on-campus Annual Auction. The 2012 Public Justice Foundation honoree was The Honorable David A. Paterson '82. The recipient of the 2012 David A. Diamond Distinguished Public Service Award was Professor Andrew Schepard, the director of the Center for Children, Families and the Law. Congratulations to PJF President Ahmed Almudallal 3L and his committee for their hard work and leadership.
---
Newsroom
Myrka Gonzalez '82 and Husband, David Ochoa, Recognized by Newsday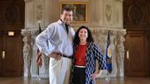 Myrka Gonzalez '82 has donated more than $2 million to support higher education and leadership development for Hispanics on Long Island over the past 10 years.
Newsday (3/27/12)
Hofstra Law Hosts Hempstead High School Mock Trial Dinner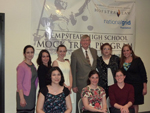 In 2008, the Maurice A. Deane School of Law at Hofstra University partnered with Hempstead High School to establish a mock trial program. Each year Hofstra Law students work with a team of high school students from Hempstead to teach trial skills and prepare them to compete the in the New York State Bar Association's High School Mock Trial Competition. On Monday, April 16, Hofstra Law celebrated the accomplishments of the high school students. The program is supported by the National Grid Foundation and the Charles and Joan Hermanowski Foundation. Hillary Light '78, an English teacher at Hempstead High School, organizes the program with her husband, Richard Fuhrman '77.
Hofstra Law Hosts Career Fair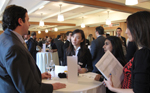 On March 19, the Office of Career Services hosted its 5th annual Career and Networking Fair at the Hofstra University Club. This year's fair was the biggest yet, with more than 80 Hofstra Law alumni and local laywers in attendance. More than 100 Hofstra Law students had the opportunity to talk with lawyers in various fields.
Hofstra Law Students Help Organize National Leadership Summit on School-Justice Partnerships


A group of Hofstra Law students played a role in organizing the National Leadership Summit on School-Justice Partnerships: "Keeping Kids in School and Out of Court," held at New York City's Roosevelt Hotel on March 11-13, 2012. The summit, presented by the New York State Permanent Commission on Justice for Children, served as a unique opportunity for students in the New York metropolitan area to improve the way the legal and educational systems interact and promote policies that benefit students, their families and their communities.
Mitchell Gans '74 Installed as the Rivkin Radler Distinguished Professor of Law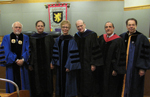 On March 26, Mitchell Gans was installed as the Rivkin Radler Distinguished Professor of Law. The Rivkin Radler Distinguished Professorship was established in 1987 and funded by Rivkin Radler LLP, a nationally prominent law firm with offices on Long Island and in New York City and New Jersey. Professor Gans earned his J.D. degree in 1974 from Hofstra Law, graduating second in his class. Professor Gans also earned his bachelor's degree from Hofstra University. He became a professor in 1978, teaching tax-related courses, including Wills, Trusts and Estates.
---
Events
Featured Event
Reunion 2012
Alumni Celebration and Reunion for the Classes of '76, '77, '81, '82, '86, '87, '91, '92, '96 & '97
Saturday, April 28
Join us for this opportunity to say farewell to Dean Nora V. Demleitner and to Professor Ronald Silverman as well as welcome Interim Dean Eric Lane.
All events will take place at the Maurice A. Deane School of Law at Hofstra University. Business casual attire suggested.
Convocation Celebrating the Naming
of the School of Law in Honor of Maurice A. Deane '81
Friday, April 27 | 11 a.m.
The Student Center Theater, Sondra and David S. Mack Student Center, North Campus
RSVP
---
Class Notes
Dorothea-Maria "Doria" Rosen '75 was nominated by President Obama on March 9, 2012, as the new U.S. ambassador to Micronesia, the western Pacific island nation.
Ilene S. Cooper '79, partner at Farrell Fritz, was elected as the new chair of New York State Bar Association Trusts and Estates Section and took office during the week of January 23, 2012.
Jesse Baker '79 passed away on April 21. He had a long and successful career with the firm of Gutman, Mintz, Baker & Sonnenfeldt. He and his wife, Beverly '97, were active in the BLSA Alumni Association at Hofstra Law and generously contributed to the BLSA Alumni Scholarship. A memorial service will be held on May 2 from 4-6 p.m. at The Riverside Church, 490 Riverside Drive, New York City. The family has requested that donations in his memory be made to the Maurice A. Deane School of Law at Hofstra University for a scholarship to be established in his name. For further information, please contact Lisa Berman, assistant dean for external relations, at 516-463-4758 or Lisa.H.Berman@hofstra.edu.
Bradley Siciliano '92 joined Littler Mendelson in March 2012 as a shareholder in the firm's New York office. He specializes in corporate ethics and compliance matters, conducting internal investigations, promoting corporate social responsibility initiatives and managing labor and employment law matters.
Andrez S. Carberry '05 joined Avon Products as employment counsel. He also was the guest speaker at the Stony Brook University annual campus community kick-off celebration for Black History Month on February 1, 2012.
---
Job Postings & Career Development
Associate Attorney, The Law Offices of Brad A. Kauffman, PLLC (New York, NY)
Associate Attorney - Employee Benefits & ERISA, Chernoff Diamond (Garden City, NY)
Associate (5+ years experience), Catalano Gallardo & Petropoulos, LLP (Jericho, NY)
Litigation Associate with 4-6 years experience, Chalos O'Connor, LLP (Port Washington, NY)
Symplicity
If you do not have a Symplicity account, please contact Diane Gayer in the Office of Career Services at 516-463-5871 or lawdlg@hofstra.edu.
Nassau County Bar Association
Visit the Nassau County Bar Association's career center for more job postings.
---
News@Hofstra Law
Hofstra Law Awarded Grant From Hermanowski Foundation for Community Youth Programs
The Charles and Joan Hermanowski Family Foundation donated $10,000 to help fund two of the Maurice A. Deane School of Law at Hofstra University's programs that serve at-risk youth in the community. The Hermanowski Foundation, which was founded by Hofstra Law alumna Joan Hermanowski '76 and her husband, Charles, strives to improve and transform the lives of children and young adults living in the United States. The grant will provide financial support for Hofstra Law's involvement with the Nassau County Youth Court and also be used to continue the Hempstead High School Mock Trial Program.
---
Faculty in the News
Justice Gableman rules against Michael Best
Professor Monroe Freeman claims that Wisconsin State Supreme Court Justice Michael Gableman should have recused himself from the Michael Best & Friedrich case.
The always surprising, boundary-pushing Judge Rakoff
Professor Emeritus Roy D. Simon weighs in on the ethics of attorney/client privilege in the U.S. District Court Judge Jed Rakoff case.
What's In a Name? A Lot, When the Name is "Felon"
Dean Nora V. Demleitner comments on the label of felon, claiming that its use condemns individuals to "internal exile."