Laying the Groundwork for Afghanistan's Future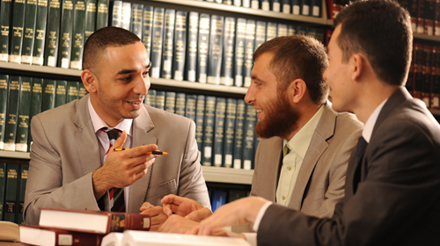 As the United States prepares to withdraw troops from Afghanistan, establishing a rule of law is the crux of the region's future. Law schools across the U.S., including the Maurice A. Deane School of Law at Hofstra University, are helping to institute law and order at the grass roots: educating the next generation of Afghan lawyers, judges, advocates and educators.

In September 2011, Hamid Durani, Abdul Samad Keramat and Mohammed Essa Karimi (pictured, left to right) arrived at Hofstra as part of the Law School's participation in the Public Private Partnership for Justice Reform in Afghanistan (PPP). Established in 2007 by former Secretary of State Condoleezza Rice, the PPP is based on the simple idea that Afghanistan's future is inexorably tied to its legal system and that system's ability to deliver justice. Over the past four years, the partnership has funded a number of small yet high-impact projects, most notably its program that sponsors Afghan legal professionals seeking Master of Laws (LL.M.) degrees at U.S. law schools.

Because no graduate-level legal education exists in Afghanistan at the moment, Afghan lawyers and judges must look abroad to gain a more expansive understanding of different areas of the law, including international, commercial, human rights and intellectual property. Yet many are unable to afford the tuition, let alone the cost of traveling and living abroad.

But thanks to the PPP, which combines government funding and support from private institutions, 10 scholars, including three women, are pursuing higher legal degrees at Hofstra Law, Catholic University, Harvard and Stanford during the 2011-2012 academic year. In addition to tuition, Afghan legal scholars also receive grants for travel and living expenses, and they are paired with legal mentors who help them make the most of the program.
Look for the complete article in the upcoming issue of the Hofstra Law Report — out this March.
---
Spotlight: Professor Susan Saab Fortney
Howard Lichtenstein Distinguished Professor of Legal Ethics and Director of the Institute for the Study of Legal Ethics

Susan Saab Fortney joined Hofstra Law in 2011 from Texas Tech University School of Law, where she had served as interim dean since 2010 and Paul Whitfield Horn University Professor since 2008.
Fortney's research focuses on the culture, ethics peer-review practices and billable-hour expectations of law firms. In 2005, she completed a national cross-profession study of lawyers practicing in firms, government and corporate offices.
On Monday, January 30, Hofstra Law will host a convocation to install Fortney as the Howard Lichtenstein Distinguished Professor of Legal Ethics and a retirement celebration for Roy D. Simon. The event is open to the Hofstra Law community.
---
Hofstra Law Team Named Regional Champion at National Moot Court Competition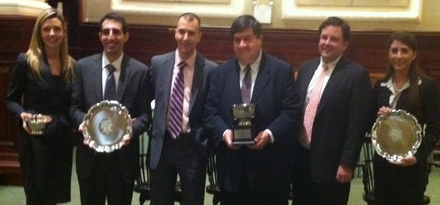 A team of Hofstra Law students was named Regional Champion at the Region II Rounds of the 62nd Annual National Moot Court Competition on November 16-17. This victory marks the first time that a team from Hofstra Law has won the regional championship and advanced to the national finals.
After competing in the final round against a team from Seton Hall University School of Law, 3Ls Melissa Danowski, Jesse Goldberg and Jessica Miller were named Best Team for Region II. Hofstra Law's team also swept the other top honors in the Region II competition: Best Brief, Best Individual Oralist (Danowski) and Second-Place Best Individual Oralist (Goldberg).
---
Newsroom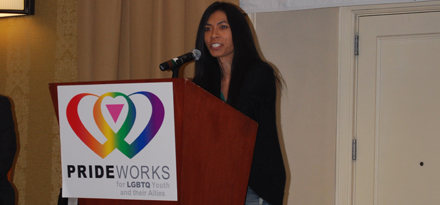 Stevie Tran 2L Serves as Keynote Speaker at
PrideWorks Conference

Stevie Tran 2L served as the keynote speaker at the 2011 PrideWorks Conference in Tarrytown, New York on November 17. Stevie spoke to an audience of more than 550 LGBT students and their supporters about her experience as a transgender Vietnamese-American law student, as well as her story of transition and the need for personal advocacy.
In addition, Stevie recently filmed an interview for Just Gender, a forthcoming feature-length educational documentary on the many dimensions of transgender. The film is focused on helping people better understand the varied facets of gender identity and presentation. The film is being produced by the same team that released Ten More Good Years, which featured aging LGBT people. The trailer for the film is available at justgender.com.
---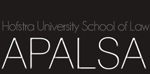 Hofstra Law's Asian Pacific American Law Students Association (APALSA) was honored with the 2011 Affiliate of the Year Award by the National Asian Pacific American Law Students Association (NAPALSA).
This prestigious award is given each year to a school that has demonstrated commitment to the mission and goals of NAPALSA, excellence in contributions to the Asian Pacific American legal community, service projects or events benefiting the greater community, and dedication to Asian Pacific American law student members.
---
Drawing on Science to Advance the Rule of Law
Student researchers at the LLT Lab co-author articlefor peer-reviewed journal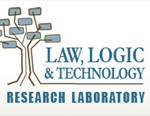 A scholarly article featuring research conducted by the Research Laboratory for Law, Logic and Technology (LLT Lab) at the Maurice A. Deane School of Law at Hofstra University has been published in the peer-reviewed journal Artificial Intelligence and Law. The article, "A Framework for the Extraction and Modeling of Fact-Finding Reasoning from Legal Decisions: Lessons from the Vaccine/Injury Project Corpus," was co-authored by Vern R. Walker, professor of law and director of the LLT Lab, and former student researchers Nathaniel Carie '11, Courtney C. DeWitt '11 and Eric Lesh '11. Read more
---
Events
In Honor of Justice Reception, In Support of the Public Justice Foundation, With the 2012 PJF Honoree, The Honorable David A. Paterson '82
Monday, January 23
Retirement Celebration for Roy D. Simon and Convocation to Install Susan Saab Fortney as the Howard Lichtenstein Distinguished Professor of Legal Ethics
Monday, January 30 | 5-7:30 p.m.
Sidney R. Siben and Walter Siben Moot Courtroom, Room 308

Howard Lichtenstein Distinguished Professorship in Legal Ethics Lecture
"The Rise of Institutional Law Practice"
Speaker: Professor Thomas D. Morgan
Wednesday, February 1 | Noon-1 p.m.
Sidney R. Siben and Walter Siben Moot Courtroom, Room 308
---
Class Notes

Leo Spandorf '82 passed away on August 14. He began his second career as a tax attorney after a long, successful career in his CPA firm, Kohleriter & Spandorf. He is survived by his wife, Bernice, and his children. Donations in his memory may be made to Baruch College, the Crohn's & Colitis Foundation or the Brain & Behavior Research Foundation (formerly known as NARSAD).
Marc L. Hamroff '83 managing partner at Moritt Hock & Hamroff, was appointed vice chair of the board of directors for the Long Island chapter of the American Heart Association in September, and in October he was appointed to the board of directors of the Risk Management Association (RMA) of Long Island.
Jaspreet S. Mayall '91, partner at Certilman Balin Adler & Hyman, was reappointed for a second four-year term to the Committee on Character and Fitness for the Second, 10th and 11th Judicial Districts by the Appellate Division, Second Department, of the Supreme Court of the State of New York. He also served as master of ceremonies at the Nassau County 65th Independence Day of India celebration in Mineola on August 15.
Michelle Contino '11 joined the real estate practice group at Certilman Balin Adler & Hyman as an associate.
---
Recognition

The online 2010-2011 Donor Report (PDF) has been updated to include donors not listed in the printed version. Also, a complete list of Gala donors (PDF) can be viewed online.
---
Job Postings & Career Development
Litigation Associate (3-5 years post-grad experience), Campolo, Middleton & McCormick, LLP (Bohemia, NY)
Associate Attorney - Insurance Defense (2-5 years post-grad experience), Gallo Vitucci Klar, LLP (New York, NY)
Agency Attorney, New York City Housing Authority Law Department (New York, NY)
Labor & Employment Attorney (3+ years experience), Kaufman Dolowich Voluck & Gonzo LLP
Symplicity
If you do not have a Symplicity account, please contact Diane Gayer in the Office of Career Services at 516-463-5871 or lawdlg@hofstra.edu.
Nassau County Bar Association
Visit the Nassau County Bar Association's career center for more job postings.
---
News@Hofstra Law
More Than 130 Hofstra Law Alumni Named Super Lawyers in New York
More than 130 alumni of the Maurice A. Deane School of Law at Hofstra University have been named among the top attorneys in the New York metropolitan area for 2011 by Super Lawyers magazine, an increase from last year's total of 122. For the second consecutive year, Hofstra Law ranks ninth among the top 10 law schools nationwide with graduates featured on the New York Super Lawyers list. Of the top 10 schools, Hofstra Law is the youngest.
Dean Demleitner Receives Leadership in Law Award
Dean Nora V. Demleitner received a Leadership in Law Award in recognition of her contributions to legal education. Sponsored by Long Island Business News, the Leadership in Law Award recognizes those individuals whose dedication to excellence and leadership, both in the legal profession and in the community, have had a positive impact on Long Island.
---
Faculty in the News
Tennessee stakes out recusal grounds
James Sample asserts that, while bright-line rules like New York's may provide some clarity to litigants, there are reasons to have more elastic rules, too. Thomson Reuters (1/9/12)
Second Guesses
According to Eric M. Freedman, lawyers who are truly incompetent — perhaps due to problems with drugs or alcohol — are the "most likely to be defensive" when challenged about their handling of a case. California Lawyer (January 2012 issue)
Everything I Need to Know About Family Law I Learned From Teen Mom
Joanna Grossman discusses the intersection of family law issues and the reality show Teen Mom. Verdict (12/12/11)
---