Hofstra Names School of Law for Maurice A. Deane
Hofstra University has named its law school the Maurice A. Deane School of Law at Hofstra University to honor a distinguished alumnus who has a unique, 30-year commitment to Hofstra that was first forged when he embarked on a law degree after a successful career as a business executive.
At the age of 50, Deane enrolled in Hofstra Law and became an exceptional student who graduated first in his class. He was a mentor and professional role model to his classmates and an active and engaged member of his class. At the 1981 commencement exercises, he received awards for both constitutional law and evidence. The award bestowed on the Law School valedictorian each year at graduation is named the Maurice A. Deane Award in his honor.
---
Greetings From New Alumni Director Jodie Sperico

Greetings from Hofstra Law School!
The semester is well under way, and it marks the start of new beginnings not only for our students and faculty but for me as well. I want to take this opportunity to introduce myself as the new director of alumni relations at Hofstra Law.
I welcome your thoughts and ideas, and encourage you and your classmates to contact me directly if there is anything I can do to be of service to you. In turn, I am hoping that when the time comes you will answer the call and allow me to spend some time with you. The quickest way to learn about the Hofstra Law community is to hear about the experiences of our students and graduates.
---
As Global Reach Expands, So Does Presence of International Students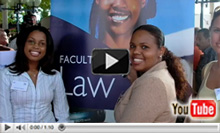 As businesses become more globalized in their reach, both in terms of products as well as people, it is becoming increasingly important for lawyers — and law schools — to follow the same trend.
This fall, Hofstra Law School welcomed a significant number of new international students, including 23 who are enrolled in its Juris Doctor class of 2014. These students, who represent approximately 6 percent of the current 1L class, are from a wide range of countries, including Canada, China, Haiti, Nepal and the Republic of Korea.
"This is the second year in a row that we are attracting a sizable number of students from abroad, and it represents our thriving international reputation," said Jeffrey A. Dodge, assistant dean for global initiatives & multicultural affairs. "As the practice of law becomes more global, Hofstra Law will continue to expand our programs to reach international students who are interested in gaining an in-depth understanding of American law or who want to practice in the United States."
---
Events Honor Alums Through Discussion
and Service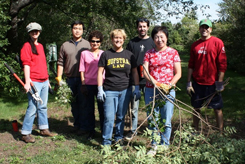 In commemoration of the 10th anniversary of September 11, the Hofstra Law community hosted a panel discussion on the legal ramifications of the terrorist attacks and participated in the 9/11 National Day of Service earlier this month.
The panel, "The 10th Anniversary of 9/11: A panel discussion on the political and legal ramifications of September 11," was held on Monday, September 12, and featured Professor Eric M. Freedman, Professor Julian Ku and 9/11 first responder Joe Cammarata 1L. Each of the panelists examined various legal aspects of the war on terrorism, which was launched in response to the September 11 attacks. An introduction by Dean Nora V. Demleitner honored those who lost their lives on 9/11, including three Hofstra Law alums: Joni Cesta '91, Neil D. Levin '81 and Glenn J. Winuk '87.
Later that week, Hofstra Law students, faculty and staff participated in the National Day of Service and Remembrance, a program inspired by Winuk, who lost his life on 9/11 while participating in the rescue effort at the World Trade Center, just a block and a half from the law office where he worked.
---
Media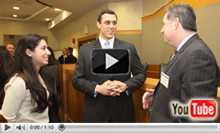 Professional Success and Leadership Development Program (2:40)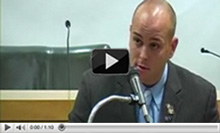 The 10th Anniversary of 9/11: A panel discussion on the political and legal ramifications of September 11 (52:15)
---
Newsroom
Alumni
Stuart U. Goldfarb '80
WWE has named Stuart U. Goldfarb, since June president and CEO of Atrinsic Inc., to its board of directors. Goldfarb, will also serve as a member of WWE's audit committee.
Hartford Business Journal (8/23/11)
Drew Mollica '10
Drew Mollica has been around the racetrack for 30 years, and he looks the part — a mop of hair flecked with gray, a sparkle in his eye behind glasses the size of a windshield and quick with a name, a backslap, a story.
Faculty
Bloomberg Schools Flunk the Constitution
Eric Lane's civic literacy report is cited extensively in an op-ed.
How to Become the 51st State
Leon Friedman examines the history, legality and political ramifications of creating new states.
If elected president, Rick Perry could still jog with his gun
Eric M. Freedman asserts that in order to legally carry a gun, even if it meant breaking local law, a sitting president would have to persuade the court that carrying the gun was part of his official duties.
Yahoo! News (The Ticket blog) (8/16/11)
Students
Family Court Review Staff Members Raise Money for Victims of Domestic Violence
On Thursday, October 6, seven staff members from Hofstra Law School's Family Court Review participated in Story By Story, a stair-climbing fundraiser sponsored by inMotion. Participants climbed 42 flights of stairs at 1411 Avenue of the Americas in Manhattan to support inMotion's mission to provide free legal services to low-income women who are victims of domestic violence and human trafficking. To date, the students have raised over $3000.
For more information about the fundraiser and to support the Family Court Review, visit www.storybystory.org or contact FCR Managing Editor, Trinh Tran at TTRAN6@pride.hofstra.edu.
The Hofstra Coalition Against Teen Dating Violence Creates "What You Need to Know" Brochure


Hofstra Law 3Ls Nicole Rynston, Samantha Sandler, Rei Watanabe and Shirin Zarabi, with Professor Barbara Barron have created "Teen Dating Violence — What You Need To Know," a brochure on teen dating violence. The Hofstra Coalition Against Teen Dating Violence was founded in an effort to address the ever-present problem of dating violence.
Paul Liggieri 1L Receives Edwin J. Mulhern Scholarship
Paul Liggieri 1L was recently awarded the Edwin J. Mulhern Scholarship. Sponsored by the Nassau Lawyers Association of Long Island, this scholarship provides $3,000 in tuition assistance to law students from Nassau County.
Hofstra Law Students Investigate Zoning, Assist Oil Claimants in the Gulf Coast
This summer, a team of eight third-year students traveled to Biloxi, Mississippi, to volunteer with the Mississippi Center for Justice. For a week in July, the students investigated zoning practices in Bay St. Louis and helped Mississippians impacted by the BP oil disaster navigate the Gulf Coast Claims Facility claims process.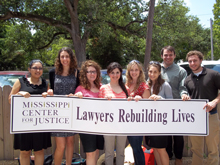 From left to right: 3Ls Michelle Guardado, Jessica Smith, Meredith Ryan, Claudine Sourour, Katherine Porter, Irene Zoupaniotis, Raymond Klein and Joshua Ebersole.
---
Events
Featured Events
40th Anniversary Gala
Wednesday, November 9
Yankee Stadium
Honoring
Randy Levine '80
6:30 p.m. Cocktail Reception
Delta SKY360° Suite
8-10 p.m. Dinner Program
Legends Suite Club
Silent and Live Auction
More info
Settlement Day
Friday, October 21
Hofstra Law School
Hofstra Law School will host the second annual Settlement Day, a mass settlement initiative of personal injury claims by Travelers Insurance Company.If you have one or more clients with personal injury claims against a Travelers policyholder that you would like to negotiate, mediate or arbitrate, please contact Leslie Cohen at The Jansen Group at (516) 433-3474.There will be no charge for Hofstra Law alumni to have their cases mediated or arbitrated.

The Inaugural Philip J. Shapiro Endowed International Visiting Scholar Lecture
Monday, October 24
Noon-1 p.m., Room 308
Speaker: The Honorable Sang-Hyun Song, President and Judge, International Criminal Court
No RSVP Necessary
Conference of Asian Pacific American Law Faculty (CAPALF) and Northeast People of Color Conference (NEPOC)
Thursday-Saturday, November 3-5
November 3 | Getting Into the Legal Academy
$35 per person
November 4 and 5 | Exploring the American Family
$175 per person
To register, contact Maria Filotti, Dean's Office 516-463-6304 or lawmaf@hofstra.edu.
---
Class Notes
Ed M. Emrich '81, counsel at Shearman & Sterling, is also an accomplished, self-taught photographer whose main subject is cityscapes. A new exhibition of his work, New York, New York — 36 large-scale photographs featuring highlights of the city — is at the Salamatina Gallery in Manhasset, NY, from September 23-October 29.
Bari Jane Wolfe '83 was named managing director of the Depository Trust and Clearing Corporation (DTCC) in July. Before joining DTCC, she served as managing director at Barclays Capital.
Leslie A. Berkoff '90, partner at Moritt Hock & Hamroff, was named by the American Bankruptcy Institute as co-editor-in-chief of its Healthcare Bankruptcy Manual (2nd edition).
Joshua Wolf '08 assistant corporation counsel at the New York City Law Department, received a pro bono award at the New York City Bar Association's Municipal Affairs Awards dinner on June 16. Chief Judge Loretta A. Preska of the U.S. District Court for the Southern District of New York presented the awards.
---
Job Postings & Career Development
Admitted Attorney, Suffolk County Legal Aid Society (Central Islip, NY)
Attorney, Catalano Gallardo & Petropoulos, LLP (Jericho, NY)
Associate (3-5 years patent), Dilworth & Barrese, LLP (Woodbury, NY)
Labor Attorney (3-4 years experience), Meltzer, Lippe, Goldstein & Breitstone, LLP (Mineola, NY)
Symplicity
If you do not have a Symplicity account, please contact Diane Gayer in the Office of Career Services at (516) 463-5871 or lawdlg@hofstra.edu.
Nassau County Bar Association
Visit the Nassau County Bar Association's career center for more job postings.
---
The Briefing
The future of the law firm website
Marketing experts predict law firm websites will become bigger, more important — and more focused on the needs of individual attorneys.
The National Law Journal (9/7/11)
---
News@Hofstra Law

Hofstra Law Convenes "Marriage Equality and the Courts" With Theodore Boutrous and Richard Socarides '79
Monday, September 19, Hofstra Law School hosted "Marriage Equality and the Courts," a discussion with two of the country's leading marriage equality advocates, Theodore Boutrous and Richard Socarides '79. The discussion, which was sponsored by Hofstra OutLaw and the Hofstra Law LGBT Rights Fellowship, focused on the current state of marriage equality in the courts and the strategy behind the historic challenge to California's Proposition 8. Look for video highlights in the next issue of Insight.
Hofstra Law to Host Nassau County Youth Court Hearings


In August, Hofstra Law School began hosting the weekly hearings of the Nassau County Youth Court. The youth court, which is a program of the Nassau County District Attorney's office, allows adolescents to adjudicate low-level criminal offenses committed by their peers.
Hofstra Law Receives $7,500 From NCBA to Support Getting Beyond the System® Programming
Hofstra Law School has received a $7,500 grant from the Nassau County Bar Association's WE CARE Fund to support the Getting Beyond the System® seminar at Hofstra Law School. In this program, law students assist local disadvantaged youth by imparting critical decision-making skills that will enable them to become their own best advocates and plan for future success.