A Message From Alumni Association
President Chris Caruso '00
Dear Alumni,
At commencement a few weeks ago, I had the pleasure of welcoming the Class of 2011 to the Alumni Association and its more than 9,900 members.
The Alumni Association has undergone a transformation over the past year, so I take this opportunity to tell all alumni what we are doing and invite you to become involved.
The Alumni Board consists of an executive board and four committees — alumni relations/development, career services, diversity and enrollment management — each of which works closely with a member of the Hofstra Law administration. We are actively seeking volunteers for these committees, and I hope that you will consider joining one. Over the coming months we will provide details on the plans and goals of each of the committees. In the meantime, you can visit the Alumni Association page on the Hofstra Law website for more information. If you are interested in getting involved, feel free to contact me or Lisa Berman at Lisa.H.Berman@hofstra.edu or (516) 463-6340.
I invite you to attend an open meeting of the Alumni Association on September 14, 2011 at 7 p.m. The meeting will be held at Hofstra Law in the Faculty Lounge, Room 303. The purpose of the meeting is to highlight for alumni what the Alumni Association is working on, to hear from alumni about how we can serve all of you better and to provide a venue to catch up with classmates and colleagues.
I hope to see you in September.
Congratulations to the Class of 2011!
Sincerely,
Chris
Visit the Alumni Association Page.
---
Hofstra Law Celebrates Student Achievements at the 2011 Graduation Awards Ceremony
Hofstra Law School held its annual Graduates Celebration and Awards Ceremony on Sunday, May 22, 2011. Families, friends, faculty members and administrators joined Hofstra Law graduates at the John Cranford Adams Playhouse at Hofstra University to honor their outstanding achievements as law students.
Later that evening, New York Attorney General Eric T. Schneiderman delivered the commencement address to 270 Hofstra Law graduates, all of whom received a Juris Doctor (J.D.) degree, at the David S. Mack Sports and Exhibition Complex at Hofstra University.
The following select 2011 graduation awards were presented at commencement:

Maurice A. Deane Award — Bryan Arbeit
Pro Bono Service Award of Excellence — Vivienne Nguyen
Outstanding Law Student Award — Cheryl Sarle
Gina Maria Escarce Memorial Award — Bryan Arbeit
The Benjamin Weintraub and Alan Resnick Bankruptcy Law Award — Laurel Harris
D. Carl Lustig III Award For Oustanding Performance in Tort Law — Jeffrey Wolter
The Stephanie E. Kupferman Juvenile Justice Endowed Scholarship — Jamie Birk
The Judge Hubert L. Will Social Justice Award — Stephen Colianni, Preeti Dawane, Megan Lynch, Ben Raindorf and Noah Reiss
Leon Stern Award of the Criminal Courts Bar of Nassau County — Tracy Kinneary
Monroe H. Freedman Excellence in Criminal Justice Award — William Stoltz
The Judge Edward Hart Memorial Scholarship for Excellence in Trial Advocacy — Sharon Klein, Patricia Lynch and Alexi Poulianos
Ruskin Moscou Faltischek, P.C. Award for Outstanding Appellate Advocacy — Michael Zisser
The William Eric Goldberg Scholarship — Lauren Barth
Full Story | Full Awards List | Commencement Address
---
Professor Vern Walker Team-Teaches Health Care Courses in Pisa

Professor Vern Walker taught, with Professor Giovanni Comandé of the Scuola Superiore Sant'Anna in Pisa, Italy, two courses in connection with the Hofstra international law program in Pisa, May 28 ‐ June 11, 2011. The courses were Comparative Regulation of Services and Products in Health Care, and Comparative Health Care Liability: Compensation for Medical Accidents.
The joint offering of these interrelated courses is part of the ongoing cooperation between Hofstra Law School and the Scuola Superiore Sant'Anna, and of the ongoing collaboration between Hofstra Law's Research Laboratory for Law, Logic and Technology (LLT Lab) and Sant'Anna's International and Comparative Law Research Laboratory.
---
Media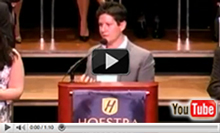 Professor Elizabeth M. Glazer Delivers "The Meta-Graduation Speech: A Graduation Speech About Graduation Speeches"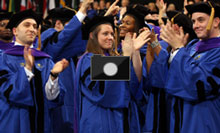 Commencement and Awards Ceremony 2011 Photos
---
Newsroom
Alumni
Warren Hoffman '84
Nassau County Bar Association President Marc Gann '84 presented one of the 2011 President's Awards to Warren S. Hoffman of East Meadow, in recognition of his extraordinary hard work and dedication as the chair of the Grievance Committee of the Bar Association.
Long Island Herald (6/2/11)
Clare Hodgson Meeker '80
Clare Hodgson Meeker is an award-winning author of eight published books and over 24 magazine stories for children.
San Juan Journal (6/2/11)
Joanne Feinberg Goldstein '74
From being a member of the first graduating class at Doherty Memorial High School to the first woman to practice union-side labor law in Massachusetts and now as secretary of Labor and Workforce Development, Joanne Feinberg Goldstein has dedicated herself to the working-class citizens of Massachusetts.
Worcester Telegram & Gazette (5/29/11)

Faculty
Panel Orders Hearing on Guardianship Petition
Theo Liebmann comments on a guardianship petition case on behalf of two Haitian teenagers whose home was destroyed in the 2010 earthquake.
New York Law Journal (6/15/11) (subscription required)
Unemployment Is a Political Choice
Daniel J.H. Greenwood asserts that a decent society, at least one where self-worth is as tied to employment as in ours, must ensure that all who want to work, can.
Dissent Magazine Blog (6/2/11)
Debate over judge's sexual orientation not likely to affect Prop. 8 case
Monroe H. Freedman weighs in on the debate over a judge's sexual orientation in a Prop. 8 case.
Los Angeles Times (5/29/11)
Eric M. Freedman responds to a New York Times article about a House bill that would place the country in a state of permanent war.
New York Times (5/25/11) (subscription required)
Students
Kaitlyn McKenna 3L Wins Writing Award for Note on Global Perspective of Children's Rights
Kaitlyn McKenna 3L recently was named winner of the National Association of Counsel for Children's (NACC) 2011 Student Essay Competition. Her note "A Global Perspective of Children's Rights: Advocating for U.S. Citizen Minors After Parental Deportation Through Federal Sub Agency Creation" was selected based on the importance of the topic to advancing the legal interests of children, originality, persuasiveness and the quality of her research and writing.

McKenna's note, which deals primarily with creating a federal agency to assist U.S. citizen children after their parents are deported, will be printed before NACC's 34th National Child Welfare, Juvenile, and Family Law Conference and distributed to each conference attendee. The conference will be held from August 29 ‐ September 1 in San Diego.
Nick Kingsbury 2L Turns Traffic Cones Into Fashion
When nature-loving Nick Kingsbury 2L set out for a walk through his Huntington Station neighborhood on a July day in 2008, he ended up stumbling upon a traffic cone and the answer to a business puzzle.
Newsday (5/24/11) (subscription required)
---
Class Notes
Stuart Goldfarb '80 was named president and CEO of Atrinsic, a marketer of direct-to-consumer subscription products and an Internet search-marketing agency, on June 1, 2011.
Hon. Robert A. Ross '83 passed away on May 15, 2011, from an aortic aneurysm. He ran a private law practice in Kew Gardens for 18 years and served as a village justice in Oyster Bay Cove before winning election in 2002 as a New York State Supreme Court justice. He is survived by his wife, Bara; daughters, Malina, Hailey and Brielle; mother, Selma, and siblings, Alan and Lenore.
Kim Ciesinski '89 joined the matrimonial law firm of Tabat, Cohen, Blum & Yovino in May 2011. She will be expanding her legal services to include divorce mediation and collaborative law.
Christopher Shea '07 was named assistant director of pro scouting for the Miami Dolphins in May 2011.
Angela M. Burton '09, associate at Kramer Levin Naftalis & Frankel, was appointed to the New York State Bar Association Committee on Children and the Law.
---
Job Postings & Career Development
Regulatory and Compliance Counsel, Fortress Investment Group (New York, NY)
Trusts & Estates Attorney, Meltzer, Lippe, Goldstein & Breitstone, LLP (Mineola, NY)
Attorney (4-6 years corporate experience), The PeterSan Group (New York, NY)
Associate (2 to 3 years post-grad experience), Mendes & Mount, LLP (New York, NY)
Symplicity
If you do not have a Symplicity account, please contact Diane Gayer in the Office of Career Services at (516) 463-5871 or lawdlg@hofstra.edu.
Practising Law Institute (PLI)
Hofstra Law graduates can receive a discounted all-access pass to the Practising Law Institute's (PLI) online seminars and on-demand CLE courses.
Learn More
Nassau County Bar Association
Visit the Nassau County Bar Association's career center for more job postings.
---
Here's the Big Picture on Changing Jobs
By Kathy Morris
FindLaw.com
Question: I think I know how to put my resume together and how to respond to blind ads, but that's about all I know about looking for a job. Is there a big picture, and just what are the components of a job search?
Answer: You know more than you think, just by perceiving that there are questions to ask. Yes, there is a big picture, and it has to do with planning your search, as your own advocate, and addressing prospective employers' needs and those of their clients, rather than just how a new job would benefit you. Here is an overview of the job search process to assist you:
Analyze your career.
Take the time up front to analyze your previous career choices and methods of finding jobs. Spend the effort to assess what it is that you want and need, and the role your work plays in your personal life. An integrated, affirmative approach to your future makes it more likely you'll find a job you'll enjoy and want to keep.
Crystallize your focus.
Once you've analyzed your career goals, crystallize your thinking to focus on the jobs you want. You may choose to search in several directions, but you'll know why each is of interest to you and be in a position to present your ideas for your future cohesively.
---
News@Hofstra Law
Hofstra Law School's Public Justice Foundation Names Record Number of Fellowship Recipients for 2011
For more than 20 years, Hofstra Law School's student-run Public Justice Foundation (PJF) has raised money to support law students who devote their time and legal skills to public interest organizations over the summer. This year, PJF raised a record-breaking $48,536, which will enable 44 law students to receive stipends for unpaid summer internships in the public sector they otherwise would be unable to accept because of financial constraints.
7 Hofstra Law Students Selected for the Prestigious Equal Justice Works Summer Corps Program
Seven Hofstra Law students will spend the summer working at public interest organizations as a part of the Equal Justice Works (EJW) Summer Corps, an AmeriCorps-funded program. Summer Corps participants provide critically needed legal assistance to low-income and underserved communities in the United States.
---
The Briefing
It's certified: These firms empower women
The Women in Law Empowerment Forum on June 14 released the initial list of law firms qualifying for its new Gold Standard Certification — a designation for firms that have integrated women in top leadership positions and compensated them well.
The National Law Journal (6/14/11)
Landing a Dream Job in a Down Market
Because the job market is bad to begin with, some young lawyers are tossing aside the notion of playing it safe and pursuing dream attorney jobs. ABA Journal Podcast moderator Stephanie Francis Ward speaks with two recent grads and a career counselor.
ABA Journal (Podcast) (6/6/11)