New Yorkers Get Failing Grade in Civic Literacy
New Study Reveals Lack of Foundational Knowledge of the U.S. Constitution and Government
Most New Yorkers believe an understanding of the U.S. Constitution is vital to the proper functioning of American government. But according to a new survey, most admit that they know little about its specific provisions.
A new study of New York state voters tells us in stark terms just how bad things have gotten. According to A Report Card on New York's Civic Literacy, which was published by the Brennan Center for Justice last month, 58 percent of voters could name neither New York member of the U.S. Senate, 62 percent incorrectly thought the president, not Congress, has the power to declare war and two out of five people polled could not identify which branch of government makes laws — even though the legislative branch, Congress, the Senate and the House of Representatives all would have been accepted as correct answers.
"These responses are very telling," says Eric Lane, Eric J. Schmertz Distinguished Professor of Public Law and Public Service, co-author of the report and a senior fellow at the Brennan Center. "We, the people, are sleepwalking through America's decline. We are at the point that unless we quickly address our disengagement from and ignorance of the way our government works, through aggressive teaching of the basics in our schools, the nation's very strength and prosperity will be at stake."
---
Hofstra Law Students Facilitate Restorative Justice for Young People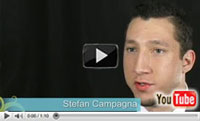 At the age of 16, Stefan Campagna, now in his second year at Hofstra Law School, stood before a youth court in Sarasota, Florida, accused of three felonies. The court heard his case, and he was sentenced by a panel of his peers to 150 hours of community service and 18 terms of jury duty in youth court.
Eight years later, Campagna — along with his classmate Rob Castillo — is working with the Office of the Nassau County District Attorney to train a class of volunteers from local high schools to take part in the office's new youth court program.
"About halfway through my jury duty service," Campagna says, "I realized that I would be back in the youth court system one day, either as a defendant or on the other side of the law. The experience gave me direction and encouraged me to follow my dreams of practicing law and advancing youth courts in order to help other kids get their lives on track."
---
Op-ed: You Get the Judges You Pay For
By Erwin Chemerinsky and James J. Sample, New York Times (4/17/11)

Legal elites must come to terms with a reality driven by the grass-roots electorate: judicial elections are here to stay. Given this reality, we should focus on balancing important First Amendment rights to financially support campaigns with due process concerns about fair trials.
An ugly, expensive campaign for a seat on the Wisconsin Supreme Court is but the latest example of what is now common in judicial elections: millions of dollars in misleading television ads, subsidized by lobbies that have cases before the bench.
---
Hofstra Law Students Reenact the Tokyo Rose Trial
By Trinh Tran 2L and Kelly Tsou 2L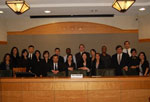 On March 28, Hofstra Law's Asian Pacific American Law Students Association (APALSA) performed a reenactment of United States v. Iva Toguri D'Aquino, popularly known as the 1949 trial of Tokyo Rose. The defendant, Iva Toguri, was a Japanese-American broadcaster who was wrongly convicted of treason against the United States for participation in propaganda radio broadcasts transmitted in the South Pacific during World War II. She was pardoned by President Gerald Ford in 1977. Although the infamous trial occurred more than 60 years ago, it highlighted issues that still resonate today, including racial prejudices, citizenship and what it means to be an American.
---
Newsroom
Alumni
Joe DeGuardia '89
Joe DeGuardia, the founder and CEO of Star Boxing, has announced an ambitious series of boxing shows that will be held at the Paradise Theater in the Bronx.
Bronx News (4/16/11)
News@Hofstra Law
NY Attorney General Eric Schneiderman to Deliver Commencement Address at Hofstra Law School
New York state Attorney General Eric T. Schneiderman will deliver the keynote address at Hofstra Law School's commencement ceremony, to be held on Sunday, May 22, at 7:30 p.m.
Students
Robert Spataro Receives 2011 U.S. Presidential Management Fellowship
Robert Spataro 3L has been named a recipient of a 2011 U.S. Presidential Management Fellowship. He will begin working with the Federal Emergency Management Agency following his graduation later this month. Spataro is the third Hofstra Law student in the past four years to be named a PMF Fellow, following Heather Drayton '08 and Andrew Beckwith '09.
Andrew L. Schwartz Wins National Law Review Writing Contest
Andrew L. Schwartz 1L won the National Law Review's Spring 2011 Student Legal Writing Contest with his article "More Than Just An Algorithm: Reconciling The Necessity For Disaggregating The Business Method, With Bilski's Abstract Test."
Faculty

Bennett Capers Appointed to Serve on New York State Judicial Screening Committee
Governor Andrew Cuomo has appointed Professor Bennett Capers to serve on the New York State Judicial Screening Committee.
"We have established screening committees to ensure a fair and thorough process for selecting judicial appointees in New York," Governor Cuomo said. "Only the most talented and dedicated legal minds should be on the bench and making the important decisions that can impact all New Yorkers."
Prof. Rose Cuison Villazor Receives University Prize for "Rediscovering Oyama v. California: At the Intersection of Property, Race and Citizenship"
Rose Cuison Villazor, associate professor of law, was one of three Hofstra University faculty members named the 2010-2011 winners of the 27th Annual Lawrence A. Stessin Prize for Outstanding Scholarly Publications. She received the prize for "Rediscovering Oyama v. California: At the Intersection of Property, Race and Citizenship," which appeared in the Washington University Law Review (2010). The article examines the parallels between recent local ordinances requiring proof of citizenship to sign residential leases – in some cases intended to prevent "browning of neighborhoods – and early-20th-century alien land laws, primarily targeting Japanese.
Serge Martinez Awarded Fulbright Grant to Teach Practical Lawyering Skills in Taiwan
Professor Serge Martinez has been awarded a grant to serve as a Fulbright Scholar to teach during the 2011-2012 academic year at the National Taiwan University College of Law in Taipei, the flagship law school in Taiwanese legal education.
The Real Source of Rising Healthcare Costs
Daniel J.H. Greenwood calls a proposal to replace Medicare with a voucher system "morally revolting and economically absurd."
Dissent Magazine Blog (4/26/11)
Fixing the Deficit by Getting Help From the Top 1%
Leon Friedman argues that instead of increasing income taxes, which might arguably affect single proprietorships and small businesses, the government could impose a tax based on wealth.
Huffington Post (4/18/11)
---
Class Notes

Jay Baris '78 joined Morrison & Foerster LLP as a partner in the New York office. He leads the firm's investment management practice.
Jennifer Sklenar '94 joined Arnold & Porter as a partner in the firm's Los Angeles office. Her practice centers on intellectual property litigation and counseling, particularly in the biotech and medical-device fields.
David Szuchman '97 was appointed chief of the newly formed cybercrime and identity theft bureau by Manhattan District Attorney Cyrus R. Vance, Jr.
---
Job Postings & Career Development
Associate Attorney, Mel S. Harris & Associates, LLC. (New York, NY)
Associate with 5+ years of transactional experience, Garfunkel WIld, P.C. (Great Neck, NY)
Associate (1-2 years experience), Kuzmin & Associates, PC (New York, NY)
Symplicity
If you do not have a Symplicity account, please contact Diane Gayer in the Office of Career Services at (516) 463-5871 or lawdlg@hofstra.edu.
Practising Law Institute (PLI)
Hofstra Law graduates can receive a discounted all-access pass to the Practising Law Institute's (PLI) online seminars and on-demand CLE courses.
Learn More
Nassau County Bar Association
Visit the Nassau County Bar Association's career center for more job postings.
---
Find Satisfaction In the Law
Fifteen Rules For Winning As A Junior Associate
By Paul M. Bunge
FindLaw.com
Obviously, the most important factors for success as an associate are a good working knowledge of the law, an ability to apply legal concepts to factual situations and a capacity to communicate clearly and effectively in written and oral presentations. If you have those skills, you are already far ahead of the game. If you don't, then this article cannot help you.
Winning as a junior associate requires much more than sheer legal ability. It also includes a variety of more mundane factors which govern how well you adapt to life in the strange environment of a modern law firm. No one will tell you these things, but your career can be derailed if you fail to apply these principles successfully.
---
Summer Skills Training

Hofstra Law School's Summer Skills Institute is open to all law students and lawyers looking to receive intensive skills training. The emphasis throughout this program is on active participation resulting in immediate individualized feedback from practicing lawyers, judges and Hofstra Law School's outstanding faculty. Classes are scheduled between May and August, and many last a week or less. Students and lawyers will be awarded 1-3 credits per class, and CLE credit is available. More Info
---
Law Day 2011

Hofstra Law Clinic's Community Partner Praised by Serge Martinez for Working to End Exploitation of Immigrant Workers
Professor Serge Martinez presented the Liberty Bell Award to the Workplace Project at the Nassau County Bar Association's annual Law Day celebration on Thursday, April 28. The award recognizes non-lawyers for activities that heighten public awareness and understanding of the law. The mission of the Workplace Project is to end the exploitation of Latino immigrant workers on Long Island and to achieve socioeconomic justice by promoting the full political, economic and cultural participation of these workers in the communities in which they live.
---
The Briefing
Social Media: A New Jury Selection Tool
Bloomberg Businessweek (4/21/11)
Recent graduates report satisfaction with 'real world' training in law school
The National Law Journal (4/19/11)