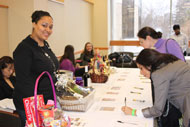 Going once, going twice … sold! These words reverberated throughout the Sidney R. Siben and Walter Siben Moot Courtroom on March 10 as Hofstra Law School held the 22nd Annual Public Justice Foundation (PJF) Gala Goods and Services Auction. Our intrepid auctioneers, Professors Eric Lane, Miriam Albert and Jennifer Gundlach, coaxed the audience into bidding higher and higher, and by the end of the evening a total of $48,536 had been raised in support of PJF Fellowships for students pursuing summer internships at public interest organizations. Contributions are still being accepted for the PJF and can be made by visiting law.hofstra.edu/giving.

Among the best-selling items donated by alumni, faculty and friends were:
•tickets to see Lady Gaga and Bon Jovi at Madison Square Garden
•fabulous box seat tickets for a Yankees game
•a two-night stay at Gurney's Inn Resort & Spa
•tickets to see Bruno Mars and Kid Cudi at Roseland Ballroom
•the chance to name a fictional character in Professor Alafair Burke's next novel
•a shootout with more than a dozen professors in a game of laser tag
•dinner with the Dean
Full Story | Photos | Make a Gift
---
Nine Alums Admitted to U.S. Supreme Court Bar
By J. Scott Colesanti, Associate Professor of Legal Writing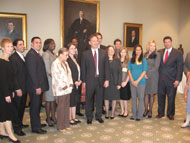 Last weekend, I had the pleasure of sponsoring a group of nine Hofstra Law School alumni for admission to the U.S. Supreme Court. The events were at once impressive and warm.
On Sunday night, Hofstra Law alum Martin Cargas '86, vice president of VS Consulting, Inc., sponsored a reception at 101 Constitution Avenue, NW. The building, which overlooks the U.S. Capitol, provided a picturesque setting for D.C.-based alumni to reconnect with the school. And the remarks of Dean Nora Demleitner highlighted both the many ways alumni can get involved and the urgency of this hour in graduate school education.
---
Media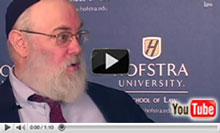 Professor Robert A. Baruch Bush Outlines the Theory and Practice of Transformative Mediation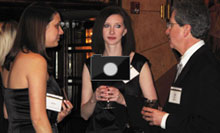 3rd Annual Inter-Journal Spring Banquet
---
Newsroom
Alumni
Joanne Naiman '81
Joanne Naiman discusses the myths of divorce mediation.
Huffington Post (3/4/11)
Faculty
General Electric's $0 Tax Bill: A Citizens United Perspective
James Sample discusses tactics employed by General Electric to keep its federal taxes low — so low that the company is owed money by the U.S. federal government.
Huffington Post (3/25/11)
Banks Jack Up ATM Fees, Blame Regulations
Norman I. Silber weighs in on increases in ATM withdrawal fees.
Credit.com (3/16/11)
The Briefing
How's the Lateral Market? Q&A With a Recruiter
The Recorder (3/28/11)
A Surprising Snapshot
New York Times (3/23/11)
News@Hofstra Law
Hofstra Law Students to Assist With Naturalization Process at AILA Citizenship Day
Hofstra Law students will volunteer to help eligible immigrants become U.S. citizens at the annual American Immigration Lawyers Association (AILA) Long Island Citizenship Day on Saturday, April 16, from 10 a.m.- 4 p.m., at Hofstra Law School, Room 308.
Hofstra Law Students Work With Nassau County DA's Office to Train Participants in Youth Court Program
Stefan Campagna 2L and Rob Castillo 2L are working with the Nassau County District Attorney's Office to train a class of volunteers from local high schools to take part in the DA office's Youth Court program, which held its first session at the Hempstead Village Court on March 24.
Look for an in-depth profile of their work in the next issue of Insight!
Students
Jury Service Spurs Young Media Exec to Pursue Law Degree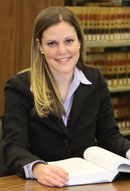 Robin Hasher 2L certainly knows what she wants: "I really want to be in law school, and I really want to be a lawyer," she wrote in her application for the 2011 Certilman Balin Honors Scholarship.
After graduating with a degree in international studies from Emory University, Hasher spent five years working in media and sales in Manhattan until she found her calling of a legal career, or rather it found her, in the form of a grand jury duty summons.
Hofstra Teams Win Top Awards in Nassau Academy Moot Court XXVIII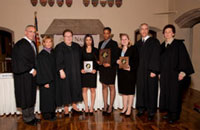 Hofstra Law student teams swept all the top awards at the 2011 Nassau Academy of Law Honorable Elaine Jackson Stack Moot Court XXVIII Competition held Wednesday, March 24.
---
Events
Sidney and Walter Siben Distinguished
Professorship Lecture in Family Law
"The Emergence of Family as a Marker of Class"
June Carbone
Monday, April 11, noon
Hofstra Law School
Remembering Eric J. Schmertz, Distinguished Professor Emeritus of Law and Dean (1982-1989): A Celebration of His Life and Work
Wednesday, May 11, 5 p.m.
The Helene Fortunoff Theater, Monroe Lecture Center
---
Class Notes
Sharon Davis '80 was promoted in February to senior vice president, legal and business affairs, at Rainbow Media Holdings.
Alan Blum '81 joined Moses and Singer as partner in the firm's intellectual property group in February.
Peter Casalino '04 joined Hofstra Law School as prospect research and database manager.
IN MEMORIUM
Michael Cerussi '76 passed away on February 14, 2011.
Robin Levine '96 passed away on February 21, 2011. Robin's classmates are collecting contributions for a gift to the Law School in her memory. For further information, please contact Lisa Berman, Assistant Dean for External Relations at (516) 463-4758 or lisa.h.berman@hofstra.edu or Tom McKevitt at tmckevitt2@yahoo.com.
Nancy Rudolph, former Hofstra Law Director of Alumni Relations, passed away on March 19, 2011.
---

Hofstra Law Report Goes Digital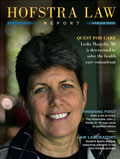 Please click here to view the magazine and enjoy the latest in the way of the sights, sounds, ideas, activities and impact of the Hofstra Law community.
---
Job Postings & Career Development
Associate (post-grad experience 1-3 years), Madeo & Fasano (New York, NY)
Trademark Attorney (3-5 years experience), The PeterSan Group (New York, NY)
Attorneys, Catalano Gallardo & Petropoulos, LLP (Jericho, NY)
Symplicity
If you do not have a Symplicity account, please contact Diane Gayer in the Office of Career Services at (516) 463-5871 or lawdlg@hofstra.edu.
Practising Law Institute (PLI)
Hofstra Law graduates can receive a discounted all-access pass to the Practising Law Institute's (PLI) online seminars and on-demand CLE courses.
Learn More
Nassau County Bar Association
Visit the Nassau County Bar Association's career center for more job postings.
---
by Thane J. Messinger, J.D., M.B.A.
FindLaw.com
A new lawyer must be careful to channel stresses and frustrations away from clients and seniors. (I left out family and friends, because that's usually where stresses are channeled *to* — although you should be careful there, too.)
Exercise and hobbies are useful options. It's easy to get caught up in the demands of practice, but you should not let the stresses of law office life cumulate without some regular method of release. You cannot devote yourself to an avocation in conflict with your job, but you should try to balance the two. On that other, ever-present hand, don't neglect the importance of (sometimes) doing nothing. Don't try to be everything to everyone (including yourself).