A Hofstra Law Grad for All Seasons:
Baseball Player Becomes Scientist and Entrepreneur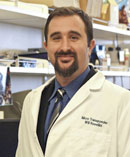 By the looks of his educational pedigree — a Juris Doctor degree, master's degrees in business administration, accounting, computational biology and regulatory science, and a Ph.D. in the works — you would think Will Rosellini '06 is a professional student and might never guess that he is a professional entrepreneur and a former pro baseball player. But the current press headlines about Rosellini clearly establish his identity as an entrepreneurial titan of technology. As reported in November 2010 by John Ostdick of Success magazine, Rosellini was named [2009] Graduate Student Entrepreneur of the Year by the Entrepreneurs' Organization (EO), a global network of more than 7,500 business owners in 38 countries. "Raising substantial amounts of capital and multiple National Institutes of Health grants, Rosellini has shown remarkable skill in managing several neuroscience research initiatives to develop new products that are commercially viable," EO said in announcing the award. "More impressively, he has run the company while simultaneously working on his PhD in neuroscience at the University of Texas at Dallas."
---

Global Programs on the Rise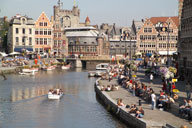 There is a fundamental reality of law practice in the 21st century: In a world where people, nations and transactions have become increasingly interconnected, legal problems are much less likely to be purely domestic.
To prepare students for the new reality of practicing law in a global legal environment, Hofstra Law School has established itself as a leader in international law with a broad range of programs and course offerings that examine transnational law, provide exposure to other legal cultures and present opportunities to interact with foreign law students on campus and abroad. Several of the programs are open to law students at other ABA-accredited law schools who have successfully completed their first-year.
Boasting the highest enrollment in its eight-year history, the 2010 Comparative and International Law program in Curaçao, a three-week intensive course, attracted 89 law students from across the globe. That's a 35 percent increase from the previous year.
---
Media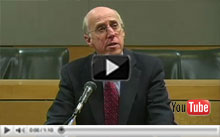 Michael A. Cardozo, corporation counsel of New York City, encourages Hofstra Law students to explore public-service careers.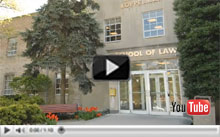 Hofstra Law marks 40th anniversary with reflections and plans to impact future of legal education and practice.
---
Newsroom
Alumni
Justice Douglas Hayden '88
Village Justice Douglas Hayden, a lifelong Floral Park resident, will seek a fourth term.
Floral Park Dispatch (2/18/11)
David A. Paterson '82
Former Gov. David A. Paterson will teach New York University undergraduates in the College of Arts & Science about government and public policy starting in the fall 2011 semester.
Newsday (2/10/11)
Faculty
Lawyers make millions off Madoff mess
Ronald Colombo tells CNN Money that the only winners in the Madoff scandal are the lawyers.
CNN Money (2/16/11)
Certainty on Tax, but Just for Two Years
Mitchell Gans cites a long list of reasons to use trusts in estate planning, including protection against creditors and permitting the beneficiary to continue enjoying benefits from the trust even if bankruptcy were to occur.
New York Times (2/9/11)
Students
Moot Court Teams Advance to Semifinals in Prestigious Competitions
Led by Professor Frank Gulino, Hofstra Law moot court teams have competed in several prestigious events this semester. In two recent competitions — the ABA's National Appellate Advocacy Competition (NAAC) and the Honorable Conrad B. Duberstein Bankruptcy Moot Court Competition — Hofstra Law's teams finished as semifinalists in extremely competitive fields.
Two other Hofstra Law moot court teams also recently participated in a mock trial competition in Arlington, Virginia, sponsored by Phi Alpha Delta Law Fraternity. They placed fifth and eighth respectively, out of a field of 32 teams. Over the next two months, Hofstra Law moot court teams will continue to appear in competitions, both locally and in Europe and the Far East.


Each week, two Hofstra Law students — Orly Bertel 2L and Hilary Casper 2L — conduct classes with local disadvantaged youths to impart critical skills and knowledge that will enable students to become their own best advocates and plan for their futures.
---
The Briefing
Big Law's $1,000-Plus an Hour Club
Wall Street Journal (2/23/11)
Court Weighs Power of Congress
New York Times (2/22/11)
Internet v. Courts: Googling for the Perfect Juror
Reuters (2/17/11)
---
Finding the right place...for you.

Many lawyers find themselves doing work that does not take advantage of their talents. Many lawyers work in offices ill-suited to their personalities. Many lawyers do work that is just plain boring. These problems are in one sense easier to handle, and in another sense far more problematic — because they're far more common. The answer? First, you must choose an appropriate area in which to spend your waking hours practicing law. Second, you must strive not to be bored.

The first decision you must make — in an affirmative way — is to decide whether litigation or a transactional practice is more appropriate for you. This is a basic question, but it's amazing how little thought goes into it for many.
---
Events
Open to alumni, family and friends.

Estate Planning in 2011 and Beyond
Monday, March 21, 12:30-5 p.m.
The Princeton Club of New York
More info
Third Annual Inter-Journal Spring Banquet
Thursday, March 24, 6 p.m.
Chateau Briand, Carle Place, NY
Washington, D.C., 40th Anniversary Celebration
Sunday, April 3, 4-6 p.m.
Hosted by Martin Cargas '86,
Vice President, VS Consulting, Inc.
U.S. Supreme Court Bar Admission in Washington, D.C. (Closed), and Alumni Luncheon
Monday, April 4
Featuring Guest Speaker Harold Koh, Legal Adviser to the U.S. Department of State
Annual Diversity Banquet
Thursday, April 7, 7 p.m.
Westbury Manor, Westbury, NY
Memorial for Eric J. Schmertz, Distinguished Professor Emeritus of Law and Dean (1982-1989)
Wednesday, May 11, 5-7 p.m.
The Helene Fortunoff Theater, Monroe Lecture Center
---
Class Notes
Jeff S. Korek '86, partner at Gersowitz Libo & Korek, was named to New York Magazine's "Best Lawyers in New York" for the fifth consecutive year.
Saba Ashraf '93 joined the Atlanta office of McKenna Long & Aldridge as a partner in the tax practice group.
Jason Kurland '00, partner in the real estate practice group at Certilman Balin Adler & Hyman, was named by Long Island Business News as one of Long Island's "40 under 40" rising stars.
Eric Crusius '00, senior attorney at Centre Law Group, won a $2.86 million verdict for a subcontractor who provides linguists for the military in Iraq and Afghanistan.
---
Sit on the Bench — Alumni Volunteer Help Needed
Legal research and writing Professor Juli Campagna is seeking assistance from alumni to volunteer as judges for students' appellate arguments during March and April. CLE credits are available; an hour for each hour judged. Alumni are asked to judge three rounds a night for a total of three credit hours. CLE credit cannot be provided for preparation, however we can provide you with a bench memo.
The arguments will take place from
6-9 p.m. at Hofstra Law School on the evenings indicated below. Your serious feedback and constructive criticism will be beneficial for our students.
Tuesday, March 29
Thursday, March 31
Monday, April 11
Thursday, April 14
If you would like to sign up or for more information, please contact Tysha Scott, interim director of alumni relations, at (516) 463-7179 or Tysha.Scott@hofstra.edu
---
Job Postings & Career Development
Litigation Attorney (3-5 years experience), Martin Clearwater & Bell LLP (New York, NY)
Admitted Attorney (1-5 years no fault experience), McAndrew, Conboy & Prisco, LLP (Woodbury, NY)
Associate Attorney, Cilmi & Associates, PLLC (New York, NY)
Litigation Associate (Class of 2008 or 2009), Garfunkel WIld, P.C. (Great Neck, NY)
Symplicity
If you do not have a Symplicity account, please contact Diane Gayer in the Office of Career Services at (516) 463-5871 or lawdlg@hofstra.edu.
Practising Law Institute (PLI)
Hofstra Law graduates can receive a discounted all-access pass to the Practising Law Institute's (PLI) online seminars and on-demand CLE courses.
Learn More
Nassau County Bar Association
Visit the Nassau County Bar Association's career center for more job postings.