Countering a Competitive Job Market by Preparing "Practice-Ready" Law School Grads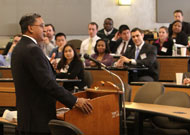 The legal industry is changing dramatically, and along with it, the needs of employers and the expectations they have of new lawyers. To succeed in this new landscape, lawyers entering the workforce must add a new dimension to their experience. In addition to a thorough understanding of the law, the most sought-after graduates will also possess practice-ready skills, such as communicating well, relating to clients and marketing their firm's business — critical skills that influence the important yet subtle dynamics of legal practice.
While some law schools are struggling to respond to this shifting landscape, Hofstra Law is leading the charge by implementing a new Professional Success and Leadership Development Program. Based on Hofstra Law surveys with law firms and their recruiters, the program identifies and responds to the hiring community's distinctive needs, and thereby gives Hofstra Law students an edge.
---
Deaf since birth, Gregory Hlibok '94 takes on a key legal post at the FCC
National Law Journal (1/10/11)

When Gregory Hlibok was 9 years old, he wanted to be a lawyer until adults told him to consider another field, since it was "not possible" for him to litigate in a courtroom as a deaf person.
Profoundly deaf since birth, Hlibok at first dutifully studied engineering, but never gave up on his dream. Now one of an estimated 170 deaf lawyers in the United States (out of a population of 36 million people with impaired hearing), Hlibok, 43, is the new head of the Federal Communications Commission's Disability Rights Office.
---
Judith A. Livingston '79 named one of three "Best Lawyers" for 2011

Remarkably, 30 successful years into her legal career, Judith Livingston is still at her first job.
"We almost keep a tally of how few people can say that in the legal field," says the Hofstra Law School graduate. "It's a tiny percentage."
Livingston started working fresh out of college, for Kramer, Dillof, Livingston & Moore, the firm she's now a senior partner of. "I wanted to be a trial lawyer, but I didn't know that that necessarily meant medical malpractice. But the more I learned of it, the more I loved what one can do in medical malpractice, in terms of helping people and changing peoples lives."
Judith A. Livingston '79 is a member of the Dean's Advisory Board at Hofstra Law.
---
Two Hofstra Law Faculty Members Recognized at AALS Annual Meeting for Scholarship and "Extraordinary Commitment" to Social Justice

Professor Ashira Ostrow, an associate professor of law, is the co-winner of the 26th annual AALS Scholarly Papers Competition. Ostrow was honored for her article "Process Preemption in Federal Siting Regimes," which discusses the political difficulties that continue to bedevil our federal system in finding suitable sites for important and controversial federal facilities. Her article is forthcoming in the Harvard Journal on Legislation. She shares this year's award with Melissa Murray, an assistant professor at University of California-Berkeley Law School. The winning papers were selected from a pool of more than 100 scholarly works that were submitted for the competition.

Professor Rose Cuison Villazor, an associate professor of law, was selected as this year's recipient of the Derrick A. Bell, Jr. Award. The award, named in honor of the first tenured African-American on the Harvard Law School faculty (now at New York University Law School), honors a junior faculty member who, through activism, mentoring, colleagueship, teaching and scholarship, has made an extraordinary contribution to legal education, the legal system or social justice. The recipient is selected by the AALS Section on Minority Groups.
---
Newsroom
Alumni
Joseph Borg '77
Joseph Borg, Alabama's securities commissioner, punishes wrongdoers with hefty prison sentences and big financial firms with much bigger fines.
Wall Street Journal (1/24/11)
William M. Duffy '01
William M. Duffy has been named deputy town attorney in Riverhead.
Riverhead Local (1/5/11)
Students
Hofstra Law Students Draft Reports To Accompany ABA Resolutions
Erin McGrath 2L and Gina Choe 2L, both Child and Family Advocacy (CAF) Fellows, wrote the report focusing on youth courts.
Andrew Ford 3L, a CAF Fellow, Eric Lesh 3L, an LGBT Rights Fellow, and Bryn Ostrager 3L, wrote the report on bullying prevention and intervention.
Faculty
A killer deal: Be a star witness, escape execution
Monroe Freedman says that prosecutors need to be "particularly careful" when using a murderer to convict another violent criminal.
Washington Times (1/13/11)
Penalties await DNA exploitation
Janet Dolgin suggests that the main reason the Genetic Information Nondiscrimination Act has not generated headlines, or massive lawsuits, is that genetic discrimination is not yet an everyday concept.
Long Island Business News (1/12/11)
Panel Addresses Controversial Proposed Change to ABA Rules on Law School Tenure
Richard Neumann argues that tenure is the key to academic freedom and the ability of faculty to research and teach without fear of retribution.
National Law Journal (1/10/11)
---
Your First Years as a Lawyer: An Owner's Manual
Firms? Public-interest? Government? In-house?
Where to Practice?
by Thane J. Messinger, J.D., M.B.A.
FindLaw.com
Law firms are the norm. That's where the clients are, that's where the salaries are, and that's where the prestige still is. Is that where job satisfaction is? With a few exceptions (based as much on the individual as on the firm), no. But that's asking almost too much, too soon...and it's skipping to the punchline. First, a quick discussion of some career alternatives:
Public-interest law has arisen out of our greater societal concern for those individuals and groups who have not shared equally in our bounty. Consequently, many public-interest lawyers act as advocates in a broader context than do their counterparts. This is a great attraction, as well as a source of deep satisfaction among most public-interest lawyers. The downside, naturally, is that few such positions afford the same lifestyle as is portrayed as the common image of lawyers. Many public-interest lawyers couldn't care less; most will still earn a decent, if unexceptional, living. The answer for you is a basic one: if your desire to serve a particular interest strongly outweighs a desire for stratospheric compensation (or fancy offices), you should consider public interest law. Know, however, that the day-to-day duties of the public interest lawyer involve many of the same routines that other lawyers face. If you wish to fight for the little people, that's terrific...but it's still the same game.
---
Events
Howard and Iris Kaplan Memorial Lecture
Hon. Gerard E. Lynch
Judge, U.S. Court of Appeals for the Second Circuit and Paul J. Kellner Professor of Law, Columbia Law School
Monday, February 7, noon
Hofstra Law School
South Florida 40th Anniversary Celebration
Thursday, February 10, 6-9 p.m.
Hosted by Mark P. Schnapp '76,
Co-Chair, White Collar Criminal Practice,
Greenberg Traurig, LLP, Miami
Complimentary admission for all Hofstra Law alumni and their guests.
The Hofstra Clinics and the Community
Part of Hofstra University's 75th Anniversary Program
Friday, February 25, noon
Hofstra Law School
22nd Annual Public Justice Foundation Auction
Thursday, March 10, 2011
Hofstra Law School
More info
Washington, D.C., 40th Anniversary Celebration
Sunday, April 3, 6-8:30 p.m.
Hosted by Martin Cargas '86,
Vice President, VS Consulting, Inc.
U.S. Supreme Court Admissions in Washington, D.C. and Alumni Luncheon
Monday, April 4, 2011
Featuring Guest Speaker Harold Koh, Legal Adviser to the U.S. Department of State
More info
---
Class Notes
Hon. Jeffrey S. Sunshine '80, supervising justice of matrimonial matters for Kings County, was officially inducted as an elected justice of the bench in December.
Christine Spletzer '88 joined the real estate practice at Winston & Strawn in New York.
David P. Leno '97, partner at Ruskin Moscou Faltischek, was named a member of the New York State Board of Real Estate. The board, which consists of 15 members, has general authority to promulgate rules and regulations affecting real estate brokers and other individuals to administer and effectuate the purposes of Article 12-A of the Real Property Law.
Jordan S. Linn '99 was promoted to counsel in the trusts and estates department at Farrell Fritz.
Barbara A. Lukeman '00, an adjunct professor at Hofstra Law, was named partner at Nixon Peabody.
---
Job Postings & Career Development

Construction Labor Law Defense Litigation Associate, Wilson, Elser, Moskowitz, Edelman & Dicker LLP (White Plains, NY)
Associate Attorney (1-2 years experience), Gibson & Behman, P.C. (New York, NY)
Associate (0-2 years experience), Brown & Altman, LLP (Garden City and Melville, NY)
Associate Attorney, Cilmi & Associates, PLLC (New York, NY)
Associate (1-3 years commercial/real estate litigation), Rosenberg & Estis PC (New York, NY)
Announcement
The Office of Career Services seeks law-related internship and/or post-graduate employment opportunities for Hofstra Law students and recent graduates. Please contact Michael Ende or post to Symplicity (see below).
Symplicity
If you do not have a Symplicity account, please contact Diane Gayer in the Office of Career Services at (516) 463-5871 or lawdlg@hofstra.edu.
CLE: Legal Writing Check-Up at Nassau Bar Association with Professor Amy Stein
Monday, February 7, 5:30-7:30 p.m.
Practising Law Institute (PLI)
Hofstra Law graduates can receive a discounted all-access pass to the Practising Law Institute's (PLI) online seminars and on-demand CLE courses.
Learn More
Nassau County Bar Association
Visit the Nassau County Bar Association's new career center for more job postings.
---
The Briefing
An Evolving Court
New York Times (1/23/11)
Why Dissing Another Law Firm in an Interview Isn't a Good Idea
ABA Journal (1/19/11)
2010: The Year of the Angry, Company-Suing Plaintiff
Wall Street Journal Law Blog (1/18/11)