Alum's Philanthropic Goals Align With School's Aim for International Context
Maritime Company Executive Philip J. Shapiro '78 Endows International Visiting Scholars Program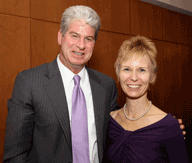 When piracy is discussed in the legal community, it most often refers to copyright infringement, but when one Hofstra Law alumnus talks about piracy, he is referring to the much more dangerous world of maritime piracy.
Since graduating from Hofstra Law in 1978, Philip J. Shapiro has built a successful career in the international shipping industry and is now president and CEO of Liberty Maritime. His company's ships deliver everything from food aid in Africa to military supplies in the Middle East. As a respected expert in the industry, Shapiro has represented U.S. flag shipping before various committees of the U.S. Congress and in the European Union in matters of international trade law.
Through his years of experience with international legal matters, Shapiro knows firsthand the value of an international perspective in legal education. When thinking about how he could best give back to Hofstra Law, Shapiro knew he wanted to help provide students with opportunities to hear from international legal scholars to enhance their educational experience.
Full Story | Photos
Hofstra Law Combines Law, Logic and Technology in New Research Venture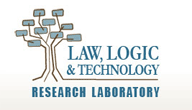 Lawyers spend countless hours developing strategies that should help them win their cases. While they routinely use psychological insights to help predict how human beings will make decisions, a new empirical method is emerging that uses logic to develop more effective arguments.
Using advanced software and Internet-based technologies, Professor Vern Walker and his team of researchers are exploring a new area of legal research: logical analysis of the underlying patterns of reasoning in legal decisions, and especially the fact-finding portions of those decisions.
This cutting-edge work is under way at the Research Laboratory for Law, Logic, and Technology — or LLT Lab — at the Hofstra University School of Law. One of the very first of its kind in the United States, the LLT Lab is conducting empirical research on reasoning patterns themselves — research that can create tools with which lawyers can improve their reasoning skills and enhance their likelihood of success in legal proceedings. Full Story
MEDIA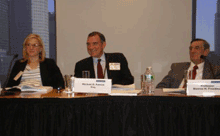 Hofstra Labor & Employment Law Journal Symposium on Immigration Law, Practice & Reform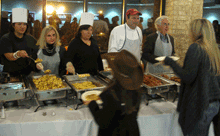 Professors serve pancakes and eggs to hungry law students taking a late-night study break during the 8th Annual Night Owl Breakfast
NEWSROOM
Alumni
Greg Hlibok '94
Greg Hlibok was named the head of the Federal Communications Commission's Disability Rights Office. Hlibok, who is deaf, is the first person with a disability to head the office.Legal Times (11/16/10)
Keith Fayan '04
The law firm of Blais Cunningham & Crowe Chester has announced the addition of Keith Fayan as new associate with the firm.
The Valley Breeze (11/16/10)
Lori E. Horowitz Moran '85 and David Paul Weiss '76
Lori E. Horowitz Moran and David Paul Weiss were inducted into John F. Kennedy High School's "Hall of Fame."
Merrick Patch (11/21/10)
Students
Students selected as features in the
NAPALSA Voices Project:
Rosa Lee
,
Founder of NY Inter-APALSA Council and Former APALSA Vice President
,
Vivienne Nguyen
,
NAPALSA Vice President
,
Steven Tran
,
LGBT Fellow
,
Trinh Tran
,
APALSA President
Hofstra Trial Advocacy Association's Intramural Mock Trial Competition Finalists and Awards:
Ahmed Almudallal (Best Defense Team), Elise Benninghofen, Aaron Fanwick (Best Prosecution Team), Sabine Franco, Madison Kaplan, Laura Kitchen (Best Defense Team and Best Overall Advocate), Matthew Krivitsky (Best Prosecution Team), and Michele Wieber.
Faculty
Genetic Mother Loses Her Bid to Be Named on Birth Certificate
J. Herbie DiFonzo notes that "reproductive technology in the last generation changed so much that we separated childbearing from genetics, but our legal system hasn't."
New York Law Journal (11/17/10)
With Appeals, an Execution, if It Happens, May Be Many Years Away
Eric M. Freedman says the legal process in Connecticut death penalty case is "just beginning."
New York Times (11/9/10)
The Sons Against the Widow
Joanna Grossman discusses wills and family law.
New York Times Magazine (11/7/10)

Senate Control Still in Doubt, But GOP Gains
Eric Lane discusses the NYS lieutenant governor's role as tie-breaker in the state Senate.
Wall Street Journal (11/4/10)
The Briefing
Law Firm Leaders Survey 2010: The New Normal
American Lawyer (12/1/10)
High Court Questions Broad Use of FOIA Exemption Associated Press (12/1/10)
US Senate Votes to Exempt Lawyers From 'Red Flags Rule'
ABA Journal (11/30/10)
News@Hofstra Law
Hofstra Law Professor Co-Edits New Sourcebook on Transformative Mediation
The Institute for the Study of Conflict Transformation at Hofstra Law School, in conjunction with the Association for Conflict Resolution, has published a new sourcebook that includes more than 20 essays on transformative mediation theory and practice by top theorists, practitioners and researchers in the field of alternative dispute resolution (ADR).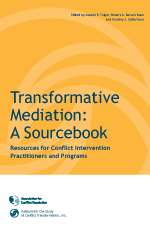 EVENTS
San Francisco Alumni Reception
Wednesday, January 5, 2011
6:30-8:30 p.m.
Otis Lounge
25 Maiden Lane
San Francisco
$40 per person
Register | RSVP on Facebook
Los Angeles Alumni Reception
Saturday, January 8, 2011
6:30-8:30 p.m.
Jonathan Beach Club
850 Palisades Beach Road
Santa Monica
$40 per person
Register | RSVP on Facebook
In Honor of Justice Alumni Reception
in conjunction with the New York State Bar Association Annual Meeting
Thursday, January 27, 2011
Hilton New York
1335 Avenue of the Americas
New York City
$40 per person
Register | RSVP on Facebook
---
CLASS NOTES
Lesley Magaril DeLia '79 was appointed director of the Mental Hygiene Legal Service for the Second Judicial Department in New York.

Leslie Margolin '80, former president of Anthem Blue Cross in California, was the featured speaker at the Hofstra Labor & Employment Law Journal reception on October 28, 2010, graciously hosted by David Feldman '82 and his law firm, Bond, Schoeneck & King. 
Peter Janoff '81, senior asset manager for DRA Advisors, joined the board of directors of Axion International.
---
JOB POSTINGS &
CAREER DEVELOPMENT
---
---
Associate (2-5 years experience),
Furey, Furey, Leverage, Manzione, Williams & Darlington, P.C. (Hempstead, NY)
Legal Malpractice Attorney (5-10 years experience), Catalano Gallardo & Petropoulos, LLP (Jericho, NY)
Associate (3-5 years), Costello, Shea, & Gaffney LLP (New York, NY)
Associate (1-3 years commercial/real estate litigation), Rosenberg & Estis PC (New York, NY)
Associate Attorney, Cilmi & Associates, PLLC (New York, NY)
Symplicity
If you do not have a Symplicity account, please contact Diane Gayer in the Office of Career Services at (516) 463-5871 or lawdlg@hofstra.edu.
Practising Law Institute (PLI)
Hofstra Law graduates can receive a discounted all-access pass to the Practising Law Institute's (PLI) online seminars and on-demand CLE courses.
Learn More 
Nassau County Bar Association
Visit the Nassau County Bar Association's new career center for more job postings.
Your First Years as a Lawyer: An Owner's Manual
by Thane J. Messinger, J.D., M.B.A.
I'll start this guest column, if the WebFolks don't object, on a radical note:
New lawyers should not be concerned with job satisfaction.
OK ... Got your attention?!
Perhaps I should qualify that: New lawyers should not be concerned with job satisfaction ... *at first*. They should, instead, prepare themselves for *future* satisfaction. In this, the first few years of law practice are like the first few years of any other intense training program — medicine, music or the Marines, to name an alliterative few. In any of these disciplines, as in law, it takes an enormous amount of work before you are in a position to enjoy the rewards. (This is not mere seniority-based protectionism. Until you have gained familiarity with the law, and are able to service [and attract] clients on your own, you are in a poor position to fulfill your professional obligations ... much less attend to your own psychic needs.)
Full Story