250 Attend Reflective and Upbeat 40th Anniversary Kick-off and Reunion
New York Governor and Former NFL Player Among Them
 By Natalie Resto '10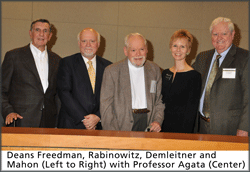 In the last issue of Insight, Hank Bjorklund and Gerard Reardon, both class of '80, shared how their seemingly unlikely friendship began when they were 1Ls at Hofstra Law. When they first met more than 30 years ago as a former New York Jets running back (Bjorklund) and a former  graduate archaeology student (Reardon), their desire to succeed academically led them to form a two-man study group. Two weeks ago that study group, now joined by their wives, arrived together as lifelong friends at Hofstra Law School for the 40th Anniversary Kick-off Celebration and Reunion.
Reardon said that he was thrilled to be back. "I feel the spirit of the school," he said. "It was an intense time [in law school], but we always managed to have fun." Reardon, who flew in from Denver, arrived at Bjorklund's house the night before the reunion, and the two stayed up until 1 a.m. talking about their first day of law school in 1977 and how much they were looking forward to seeing friends, former professors and classmates.
More Than 120 Hofstra Law Alumni Named Among New York's Super Lawyers
More than 120 Hofstra Law School alumni have been named by Super Lawyers magazine as among the top attorneys in the New York metropolitan area for 2010. These results placed Hofstra Law at No. 9 among the top 10 law schools nationwide with the most graduates on this year's New York Metro Super Lawyers list. Three Hofstra Law grads were named to the Top 100 New York Super Lawyers list: David W. Brand '75 of Brand, Glick & Brand, P.C.; Andrew L. Oringer '84 of Ropes & Gray LLP; and Ben B. Rubinowitz '81 of Gair, Gair, Conason, Steigman, Mackauf, Bloom & Rubinowitz.
Judith A. Livingston '79 of Kramer, Dillof, Livingston & Moore was named one of the Top 50 Women New York Super Lawyers for the fifth consecutive year. The remaining graduates were named Super Lawyers in a variety of practice areas including bankruptcy, real estate, mergers and acquisitions, personal injury, health care, corporate, employment and labor law, and intellectual property.
Full Story | Complete List | Nominate Fellow Alumni
---
MEDIA
40th Anniversary Kick-off Celebration and Alumni Reunion Photos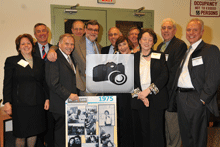 Gov. David Paterson humorously recounts lessons learned at Hofstra Law in the early 80s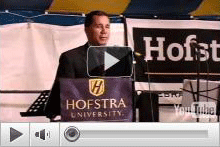 ---
NEWSROOM
Alumni
Seth Harris '88
Seth Harris wins a $17.5 million settlement for a diabetic client who was denied insulin while in police custody.
New York Post (10/19/10)
Patrick Young '85
Patrick Young says New York is a "perfect example" of alliances being made "across racial lines."

target="_blank" title="Newsday">Newsday (10/19/10)
Shawn Spielberg '08
Shawn Spielberg has been named Pro Bono Attorney of the Month for October 2010 by the Nassau County Bar Association.
NewsLI.com (10/13/10)
Sharon M. Adler '10 and Miriam O'Sullivan '10
Sharon M. Adler and Miriam O'Sullivan have been hired as new assistant district attorneys in the Bronx D.A.'s office.
New York Law Journal (10/6/10)
Faculty
Arizona Executes Inmate After Supreme Court Clears Way
Eric M. Freedman says that the lesson of the Supreme Court's ruling in the Landrigan case was "crime pays."
New York Times (10/27/10)
Evil Men in Black Robes
James Sample's report on campaign spending in judicial relations is cited as "path-breaking."
Slate (10/26/10)
Prosperity Comes From Justice, Not Austerity
Daniel J.H. Greenwood outlines how the rhetoric of government deficits ignores standard financial wisdom. 
Dissent (10/20/10)
The American Law Institute Elects 64 New Members
Dean Nora V. Demleitner is elected to the American Law Institute.
Reuters (10/18/10)
---
EVENTS
Hofstra Labor & Employment Law Journal Symposium
White & Case, LLP
Friday, November 19
Register
---
CLASS NOTES
Dino Noto '86, director of legal affairs at Barfield, Inc., was welcomed into Stanford Who's Who, a forum for career professionals to uncover new opportunities and gain exposure within their industry, as a result of his work in the aerospace industry. Mr. Noto has 20 years of experience in the business.
Robert J. Scott '96, managing partner of Scott & Scott, LLP, has been invited to join the Council on Litigation Management (CLM). CLM sponsors educational programs, provides resources, fosters communications and recognizes lawyers who meet high standards. Selected attorneys and law firms are extended membership by invitation only based on nominations from CLM Fellows.
Christopher L. Van De Water '96 recently joined McCormick & O'Brien, LLP, as senior counsel.
Barbara A. Lukeman '00 was named partner at Nixon Peabody LLP.
Ashley Lorance '10 won second prize in the New York State Bar Association's Professor William R. Ginsberg Memorial Essay Contest. The annual competition is designed to challenge law students to analyze the environmental issues confronting us today.
---
JOB POSTINGS &
CAREER DEVELOPMENT
Associate Attorney, Arnold A. Arpino & Associates PC (Smithtown, NY)
Legal Director, Legal Information for Families Today (LIFT) (New York, NY)
Associate Attorney (1-2 years of experience), Gibson & Behman, P.C. (New York, NY)
Associate (5+ years of transactional experience), Garfunkel WIld, P.C.
(Great Neck, NY)
Symplicity
If you do not have a Symplicity account, please contact Diane Gayer in the Office of Career Services at (516) 463-5871 or Diane.Gayer@Hofstra.edu
Nassau County Bar Association
Visit the Nassau County Bar Association's new career center for more job postings.
Practising Law Institute (PLI)
Hofstra Law graduates can receive a discounted all-access pass to the Practising Law Institute's (PLI) online seminars and on-demand CLE courses.
Learn More
---
THE BRIEFING
Chief Judge Expands Reach of 'Emeritus' Pro Bono Effort
New York Law Journal (10/26/10)
Study Finds Link Between Law Firm Profitability and Managing Partners With Powerful Faces
ABA Journal (10/25/10)
Lawyer Transitions: Encountering Counteroffers
Law.com (10/25/10)