Class of '80 Unlikely Duo Look Back,
Plan to Reunite for October 16 Reunion
By Natalie Resto '10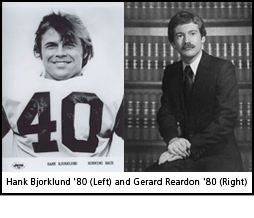 It was the fall of 1977 when Hank Bjorklund '80 and Gerard Reardon '80 first met at Hofstra Law. They started talking on the first day of classes and ended up forming a two-man study group, which led to their developing what would become a lifelong friendship through their shared law school experience.
"We became the best of friends over those three years," Reardon said. Bjorklund agreed, adding that what he most remembers is how much fun they had. "We went through the experience together," he said. "We hung together."   Full Story
Alumni Discussion & Ideas Invited for BETA Version of 40 Year Timeline


A summer's worth of digging through yearbooks, viewbooks, newspapers, dusty boxes of photos and interviews with faculty, alumni and others has produced a preliminary "BETA" version of a digital timeline commemorating Hofstra Law's history. From a neighborhood law office over a fish store in downtown Hempstead to virtual research collaboration with students in Pisa, Italy, Hofstra Law's history is richer, deeper and more colorful than you might imagine. As we look to a bright future, this timeline affords the Hofstra Law community a chance to document and discuss the cherished past.
View Timeline
Election Day Chaos Teaches Soft Skill of Lawyering: Storytelling
By Stefan H. Krieger and Serge A. Martinez
Storytelling has always been a part of law and lawyering, but it is only relatively recently that narrative and storytelling have assumed an important place in legal scholarship. In the past two decades, scholars from throughout the legal academy have turned their attention to the role of narrative and storytelling in law and advocacy. In addition to a thorough examination of storytelling at trial, recent academic literature has used narrative as a lens to understand and describe a vast diversity of areas of law, including, among many others, intellectual property, family law and corporate law. Full Story
---
MEDIA
Dean Relishes Upcoming Panel at Reunion with Four Predecessors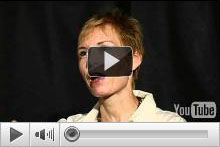 Reunion Speaker & Author Eric Lane Builds Case for President to Address Civic Ignorance Crisis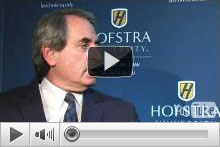 ---
NEWSROOM
Matthew G. Schindel '97
Matthew G. Schindel has been named vice president and general counsel of HillStone International.
Bloomberg Businessweek (9/24/10)
Carlos García-Pérez '88
President Barack Obama has proposed Carlos García-Pérez to head the Radio/TV Martí stations that broadcast to Cuba.
Miami Herald (9/22/10)
Jonathan Gross '03
Jonathan Gross discusses his experience building a Sukkah in Kuwait.
The Jewish Press (9/19/10)
Jeffrey Blick '95
Jeffrey Blick will run the ING New York City Marathon on November 7, in dedication to his best friend Robert's late mother, Rona Hafter.
Syosset Patch (9/9/10)
---
Faculty
New Recusal Controversy in W.Va. High Court
James Sample weighs in on a new recusal controversy in the West Virginia Supreme Court.
The National Law Journal (9/27/10)
O'Connor Retired from Court, Not Discourse
James Sample applauds Justice O'Connor's dedication to judicial independence.
USA Today (9/8/10)
Brown's Office Reconsidering Motion Seeking to Send Lisker Back to Prison
Eric M. Freedman calls a motion in the Lisker case "thoroughly misguided."
Los Angeles Times (9/3/10)
In S.E.C. Fraud Suit, Texas Brothers Stand Firm
Ronald Colombo says the S.E.C.'s case against the Wyly brothers is pretty strong, though not a no-brainer.
New York Times (8/22/10)
Lichtenstein Distinguished Professorship of Legal Ethics Lecture
Hofstra Law School
Wednesday, October 6, Noon
Register
40th Anniversary Kick-off Celebration and Alumni Reunion
Hofstra Law School
Saturday, October 16, 4 p.m.
Register | More Info
Steroid Use, Abuse and Policy Symposium
Hofstra Law School
Friday, October 29, Noon-4 p.m.
Register
---
CLASS NOTES
Brian C. Daughney '86 has joined the law firm of LeClairRyan as a shareholder in the firm's corporate services practice area team, based in the firm's Manhattan office.
Lois Grossman '87 has joined the Faculty of Charlotte School of Law as an associate professor.
Luis Sepulveda '88 ran for the 76th Assembly District in the Bronx.
Ira Halperin '95 was named by Long Island Business News to its "Who's Who in Corporate Law" for 2010. He also joined the board of advisors of the Long Island Community Foundation in Syosset.
Samuel W. Krause '98, formerly of Skadden, Arps, Slate, Meagher & Flom, LLP & Affiliates, has joined the Los Angeles office of Snell & Wilmer L.L.P. as counsel in the employee benefits and compensation group.
---
JOB POSTINGS &
CAREER DEVELOPMENT
Associate Attorney: Commercial Lending/Banking, Cullen and Dykman LLP (Garden City, NY)
Litigation Attorney, Martin Clearwater & Bell LLP (New York, NY)
Legal and Compliance Associate, M.D. Sass Investors Services, Inc./M.C. Sass Securities, L.L.C. (New York, NY)
Associate, Garfunkel WIld, P.C.
(Great Neck, NY)
Symplicity
If you do not have a Symplicity account, please contact Diane Gayer in the Office of Career Services at (516) 463-5871 or lawdlg@hofstra.edu.
---
Multicarrier Settlement Day
Event on 10/22
Free for alumni and a chance for students to observe real-life ADR, a major settlement initiative will be held at Hofstra Law School by National Arbitration & Mediation, a private administrator, on Friday, October 22. For more information, contact Philip Guercio at Travelers Insurance.
Nassau County Bar Association
Visit the Nassau County Bar Association's new career center for more job postings.
Practising Law Institute (PLI)
Hofstra Law graduates can receive a discounted all-access pass to the Practising Law Institute's (PLI) online seminars and on-demand CLE courses.
---
THE BRIEFING
Commentary: What Makes Satisfied Lawyers Tick?
The American Lawyer (9/29/10)
Supreme Court Grants 14 New Cases, With Kagan Recused in 4
The National Law Journal (9/29/10)
Associate Salaries Bouncing Back
… But Is BigLaw?
Wall Street Journal (Law Blog) (9/21/10)
---
News@Hofstra Law
James Sample, Sandra Day O'Connor Speak About Special Interest Money in Judicial Elections at National Press Club
Hofstra Law Review Publishes Special Issue on Collaborative Law
Hofstra Law to Host Conference Examining Steroid Use, Abuse and Policy