Carolyn Wolf '86: Making a Mark in Mental Health Law
"We joke at our firm that cases start on Friday at 4:30 p.m.," says Carolyn Reinach Wolf '86, founding partner at Abrams, Fensterman, Fensterman, Eisman, Greenberg, Formato & Einiger, LLP. Perhaps more than anyone else, Wolf knows that running the only known health law practice that specifically and exclusively concentrates on mental health law is no joke. "We deal with people," she says, "whose lives are often in crisis and need of immediate action."

Wolf's practice represents institutions, families and individuals in clinical and legal issues affecting those with mental illness and related challenges. For more than 20 years, the firm has provided legal expertise that touches several areas, including family law and the health care and criminal justice systems. But beyond a traditional law firm, Wolf's practice functions as both a teacher and creative problem-solver.
---
40th Anniversary Kick-off Celebration and Alumni Reunion 2010
All alumni are invited to join us for our 40th Anniversary kick-off event on campus on October 16, which also includes reunion dinners for the classes of '75, '80, '85, '90, '95, '00 and '05. This special event will include a panel discussion with Professor Eric Lane and a program on "The Future of Legal Practice," as well as a conversation with Deans Malachy T. Mahon, Monroe H. Freedman, Eric J. Schmertz, Stuart Rabinowitz and Nora V. Demleitner on the development of Hofstra Law over the past 40 years. These sessions will be followed by an all-alumni reception with live entertainment and then dinners for each of the reunion classes.

This event will provide an opportunity not only to connect with your former classmates, but also to network with Hofstra Law graduates from the past 40 years.

We are very excited to kick off this year of celebration, and we sincerely hope you will be able to join us in October. Stop by the "Alumni" page for registration details.
---
MEDIA
Reunion Video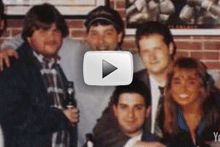 Orientation 2010: August 12-17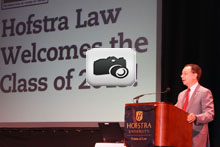 NEWSROOM  
Hofstra Law Review

The Hofstra Law Review releases its 38th volume, a special symposium issue dedicated to the Uniform Collaborative Law Act. Visit the website to preview a selection of articles or order your copy.

Alumni
Susan F. Axelrod '89
Susan F. Axelrod is named executive vice president for the Financial Industry Regulatory Authority Inc.
Investment News (7/22/10)

Gisella Rivera '05
Gisella Rivera joins the corporate law practice of Meltzer, Lippe, Goldstein & Breitstone as an associate.
National Law Journal (7/22/10)

James Rigano '82
James Rigano establishes an environmental law practice.
Newsday (8/2/10)

Joel Segal '89
Joel Segal is mentioned as a future executive for a sports team or franchise, due to his legal experience.
Sports Agent Blog (8/5/10)
Faculty
Ronald Colombo to New York Times: Case Against Wyly Brothers is Pretty Strong, Though Not a No-Brainer
Ronald Colombo says that billionaires Sam and Charles Wyly likely violated federal laws governing stockholder disclosures.
New York Times (8/22/10)

Report: Campaign Spending in State Judicial Elections More Than Doubles Since Last Decade
According to a new report authored by Professor James Sample, spending on state Supreme Court elections has more than doubled in the past decade, from $83.3 million in 1990-1999 to $206.9 million in 2000-2009. Associated Press (8/16/10)

Conservative Jurist, With Independent Streak
Monroe Freedman asserts that the judge's sexual orientation is not grounds for recusal in the Proposition 8 case.
New York Times (8/5/10)
---
News@Hofstra Law
Dean Demleitner Names Two Faculty Members Associate Deans for Intellectual Life
Professors Eric Lane and I. Bennett Capers have each been named Associate Dean for Intellectual Life. 
Lea Shaver Joins Hofstra Law School as Professor of Intellectual Property
Lea Shaver has joined Hofstra Law as an associate professor of law. In her first year, Shaver is teaching Intellectual Property Survey, Patent Law and Transnational Law.
J. Herbie DiFonzo Named Senior Associate Dean for Academic Affairs
Professor J. Herbie DiFonzo has assumed the position of Senior Associate Dean for Academic Affairs.
Juli Campagna Joins Hofstra Law School as an Assistant Professor of Legal Writing
Before completing law school, Professor Campagna had experience working as an international translator, language teacher and instructional designer.
---
EVENTS
Reunion 2010
Hofstra Law School
Saturday, October 16
Register
|
More Info
LaLSA Alumni Comedy Night
Gotham Comedy Club, NYC
Wednesday, September 22, 7 p.m.
Register
|
RSVP on Facebook
---
CLASS NOTES
Joanne Erde '77, partner at Duane Morris LLP, was recognized for her reimbursement expertise in the 2010 Chambers USA, which is based on a survey of the American legal profession. Erde is regarded as one of the leading health care lawyers on the East Coast.

Scott J. Glick '81, is now counsel-detailee for the Subcommittee on Terrorism and Homeland Security to the Senate Judiciary Committee. He contributed the article "FISA's Significant Purpose Requirement and the Government's Ability to Protect National Security" to the inaugural issue of the Harvard National Security Journal. The article examines one of the most significant changes to the Foreign Intelligence Surveillance Act that the Congress made when it passed the USA PATRIOT Act.

Emily Franchina '89, founding partner of the Garden City law firm Franchina & Giordano, P.C., was elected to serve as vice president for the 10th Judicial District on the Executive Committee of the New York State Bar Association.

Maurice Goldman '00, partner at the Arizona law firm Goldman & Goldman, P.C., received the 2010 Joseph Minsky Young Lawyer Award from the American Immigration Lawyers Association for his outstanding contributions in the field of immigration and nationality law.
---
JOB POSTINGS &
CAREER DEVELOPMENT
Counsel, Sutton Alliance, LLC
(Valley Stream, NY)
Staff Attorney, United States Court of Appeals, 2nd Circuit (New York, NY)
Associate, Sobel, Kelly & Schleier, LLC (Huntington, NY)
If you do not have a Symplicity account, please contact Diane Gayer in the Office of Career Services at (516) 463-5871 or lawdlg@hofstra.edu.
Visit the Nassau County Bar Association's new career center for more job postings.
Hofstra Law graduates can receive a discounted all-access pass to the Practising Law Institute's (PLI) online seminars and on-demand CLE courses.
Learn more.
---
THE BRIEFING  
Commentary: In Defense of Young Lawyers
National Law Journal (8/17/10)

Justice by the Numbers
New York Times (8/10/10)

Facing Shrinking Revenues, Small Firms Hike Fees, Cinch Belts
Wall Street Journal Law Blog (8/9/10)

Outsourcing Legal Work to India
New York Times (8/5/10)