In This Issue
A Conversation With Andrew Oringer
---
Events
Reunion 2010
Hofstra Law School
Saturday, October 16, 2010
More Info
| Early Registration
---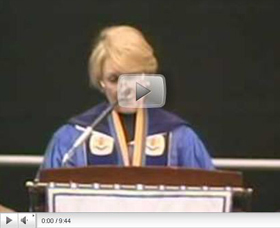 NYC Dept. of Correction Comm. Dora Schriro delivers commencement address at Hofstra Law School.
---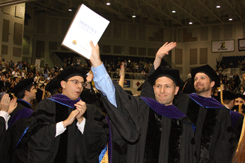 2010 Graduation Ceremony.
---
Class Notes
Hon. Jeffrey Sunshine '80,
supervising judge in matrimonial matters in Kings County, was honored at the annual dinner dance of the New York Chapter of the American Academy of Matrimonial Lawyers on May 1. 
Marc C. Gann '84, partner at Collins, McDonald & Gann, P.C., was elected president of the Nassau County Bar Association for 2010-11.
Dolores Gebhardt '84, partner at McCarthy Fingar LLP in White Plains, was elected president of the Westchester Women's Bar Association for 2010-11.

Ralph A. Catalano '89, partner at Catalano Gallardo & Petropoulos, LLP, was elected assistant dean of the Nassau Academy of Law, the educational arm of the Nassau County Bar Association, for 2010-11.


---
---
Job Postings
Associate Attorney, Bornstein & Emanuel, P.C. (Garden City, N.Y.)
Associate, Tarbet, Lester & Schoen, PLLC (Amagansett, N.Y.)
Associate Attorney, Eaton & Torrenzano LLP (Brooklyn, N.Y.)
To obtain information on these job postings and many more, log in to
Symplicity
. If you do not have a Symplicity account, please contact Diane Gayer in the Office of Career Services at (516) 463-5871 or
Diane.Gayer@Hofstra.edu
 to obtain login credentials.
---
A Conversation With Andrew Oringer

Insight sits down with Andrew Oringer '84, a partner in Ropes & Gray's Tax & Benefits Department, to talk about his time at Hofstra Law, his thoughts on executive compensation and tips on how to survive in this difficult job market. 
---
Legal Writing Conference: Teaching Students How to Become Effective Practitioners


by Prof. Amy Stein
Focusing on teaching law students how to become effective practitioners is even more important in today's legal marketplace, where employers in both the public and the private sector are looking for attorneys who already know how to practice law and conduct themselves professionally.
Recognizing that the legal writing classroom is the perfect environment in which to lay the foundation for developing this kind of attorney, Hofstra Law recently hosted the Empire State Legal Writing Conference.
---