In This Issue
Alumna's Legal Education Helped Her Run an "Amazing Race"
Hofstra Law to Host Panel Discussion on Gender Equality
---
Upcoming Events
Sidney and Walter Siben Distinguished Professorship Lecture*
Trusting Mothers: A Critique of the American Law Institute's Treatment of
De Facto Parents
Robin Fretwell Wilson
Wednesday, April 7, 2010, Noon-1 p.m.
*CLE credits available

More Info |
Professors in Print: A Panel Discussion
Gender Equality: Dimensions of Women's Equal Citizenship
Professor Joanna L. Grossman
Monday, April 19, 2010, Noon-2 p.m.
More Info
Hofstra Labor & Employment Law Journal Event: National Equal Pay Day
Ledbetter Fair Pay Act & Pay Equity Panel Discussion: The Past, Present & Future
Keynote Speaker: Lilly Ledbetter
Tuesday, April 20, 2010, 2-4 p.m.
*CLE credits available
More Info |

---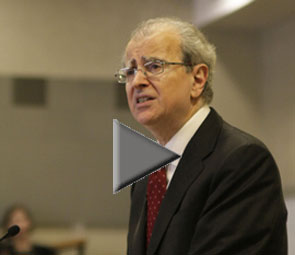 Hon. Jonathan Lippman discusses the reduction of crime and incarceration in New York with students and faculty at the 2010 Kaplan Memorial Lecture on March 8.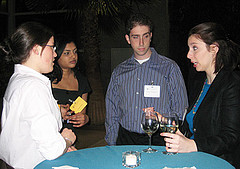 Admitted students mingle with current students, alumni and faculty at a reception on March 12 at RXR Plaza, home to several alumni and their law firms.
Class Notes
George B. South III '88 recently joined DLA Piper LLP as partner in the firm's bankruptcy and restructuring practice. 
Spencer D. Klein '89 has joined Morrison Foerster LLP as a partner in the New York Corporate Group. He serves as co-head of the firm's global M+A practice.

Neil Hernandez '95 is now an adjunct lecturer in the Public Administration unit of the Behavioral and Social Sciences Department at Hostos Community College. He also was honored at the 2010 Public Justice Foundation Auction on March 4.


---
Job Postings
Associate Attorney, Ready & Associates (Mineola, NY)
Attorney, Morici & Morici, LLP
(Garden City, NY)
Associate Compliance Officer, Chartis Insurance (New York, NY)
Associate, Jackson Lewis, LLP
(New York, NY)
To obtain information on these job postings and many more, log in to
Symplicity.
If you do not have a Symplicity account, please contact Diane Gayer in the Office of Career Services at (516) 463-5871 or
lawdlg@hofstra.edu
to obtain login credentials.
---
Alumna's Legal Education Helped Her Run an "Amazing Race
"
Hofstra Law alumna Monique Pryor '95 was recently a contestant on
The Amazing Race
, a global reality competition that airs on CBS. In an interview with
Insight
, she discusses her experiences on the show and at Hofstra Law, as well as what's next for this dynamic lawyer, entrepreneur and mother of two.
---
Hofstra Law to Host Panel Discussion on Gender Equality

On April 19, Hofstra Law will be celebrating the launch of Gender Equality: Dimensions of Women's Equal Citizenship, a new book co-edited by Hofstra Law Professor Joanna Grossman and former Hofstra Law Professor Linda McClain. The event will feature a panel discussion led by distinguished academics who will provide a critique and commentary about the book and related issues. Gender Equality takes stock of the progress toward and remaining impediments to the goals of securing gender equality and the equal citizenship of women and men. The book also develops strategies for better securing such goals and identifies new questions, theories and perspectives to help shape further inquiries about gender equality and equal citizenship.

Hofstra Law announces the development of a new type of externship placement:
The Law Firm Pro Bono Apprenticeship.
In this specialized program, the Law School will be partnering with a limited number of law firms to create summer apprenticeship positions for select Hofstra Law students. Students will work on pro bono assignments for these approved firms, at no cost, and will receive two course credits. To find out how your firm can participate in this program, contact Michael Ende by
e-mail
or at (516) 463-5871.
---
The Briefing
Is the Law-Firm Model Dying? Not Yet, But It Might Be On The Clock
The $64,000 question: Are the changes in Big Law that we have seen take place over the last 18 months here to stay? Or will things return to normal once the market stabilizes?
Wall Street Journal Law Blog
A Lawyer Rejoins a Cause That First Gripped Her 70 Years Ago
The news of so many losing their homes was pressing enough that Shirley Adelson Siegel, 91, found a compelling reason to return to the cause that first captured her intellect as an undergraduate at Barnard in the late 1930s.
The New York Times
Changing Demands Have In-House Counsel Gaining Over Outside Firms, GCs Say
Chief legal officers are responding to corporate demands to cut legal costs by boosting in-house capabilities, often at the expense of their outside counsel.
ABA Journal
---
Faculty
News@Hofstra Law
Hofstra Law Establishes Senior Role to Oversee Professional Development and Career Advancement
Victoria Roberts Drogin '90 has joined Hofstra Law School as Associate Dean and Dean for Professional Development. She will focus on broadening student and alumni success through innovative, skills-based programming.

Dean Demleitner Named One of Long Island's Most Influential Women in Business
For the third successive year, Hofstra Law Dean Nora V. Demleitner has been named among Long Island's Top 50 Most Influential Women in Business by Long Island Business News. As a third-time honoree, Dean Demleitner will be inducted into LIBN's Hall of Fame.

PJF Auction Raises More Than $25,000
The Public Justice Foundation ran its annual auction on March 4. Through the generous support of the Hofstra Law community, the auction raised more than $25,000, an increase over last year. These funds will enable current students to participate in summer internships in the public sector, which would have been impossible without this financial assistance.

Hofstra Law Brigade Ventures Down to Panama
On Monday, March 29, Hofstra Law students ventured down to Panama to work with disadvantaged communities to develop and implement legal empowerment strategies alongside Panamanian legal professionals. The Hofstra students are excited to be furthering the public interest spirit of the law school and are currently fundraising for this trip and for the sustainability of the program for future Hofstra Law students. Support.

---
Hofstra Law Launches Facebook Group
We are pleased to announce the newly re-launched Facebook Fan page for Hofstra Law. Please stop by and become a fan to join the conversations about current issues facing the legal community, learn about events and receive updates from the school.
Participate
Have a story of interest to fellow alumni? Contact Insight by sending your articles or class notes to lawalum@hofstra.edu.