In This Issue
---
Events
The 21st Annual Public Justice Foundation (PJF) Auction
Thursday, March 4, 2010
Hofstra Law School, Sidney R. Siben and Walter Siben Lecture Hall, Room 308
* Live webcast bidding exclusively for alumni
More Info | Register
Annual Howard and Iris Kaplan Memorial Lecture*
The Honorable Jonathan Lippman Chief Judge of the State of New York and Chief Judge of the Court of Appeals
Monday, March 8, 2010, Noon
Hofstra Law School, Sidney R. Siben and Walter Siben Lecture Hall, Room 308
*CLE credits available
More Info | Register
Inter-Journal Banquet
Thursday, March 18, 2010, 6 PM
Chateau Briand, Westbury, NY
More Info | Register

---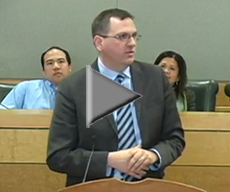 Professor James Sample debates Citizens United v. Federal Election Commission during a recent panel discussion.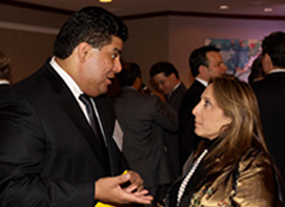 Honoree Neil Hernandez '95 speaks with alums during the In Honor of Justice Dinner.
---
Class Notes
Jeannette Molina '93 has been named administrative assistant district attorney and director of legal hiring for the New York County District Attorney's Office.
Melissa Negrin-Wiener '01 was recently named partner at Genser Dubow Genser & Cona LLP.
Michael E. Ratner '02 was recently named partner at Abrams, Fensterman, Fensterman, Eisman, Greenberg, Formato & Einiger, LLP.
Rose Garcia '08 recently accepted a position as staff attorney at the Children's Law Center in Brooklyn, N.Y.
---
Job Postings
Associate, Jackson Lewis LLP (New York, N.Y.)
Associate, Furey, Furey, Leverage, Manzione, Williams & Darlington, P.C. (Hempstead, N.Y.)
Associate, Leeds Morelli & Brown, PC (Carle Place, N.Y.)
Associate, Raven & Kolbe, LLP (New York, N.Y.)
Associate Attorney, Littleton Joyce Ughetta Park & Kelly LLP (New York, N.Y.)
To obtain information on these job postings and many more, log in to Symplicity. If you do not have a Symplicity account, please contact Diane Gayer in the Office of Career Services at (516) 463-5871 or lawdlg@hofstra.edu to obtain login credentials.
---
Participate
Have a story of interest to fellow alumni? Contact Insight by sending your articles or class notes to lawalum@hofstra.edu.
---
Hofstra Law Alumnus on Quest to Eliminate Legalese
Notwithstanding the omnipresence of ambiguous legal language, hereunder follows a noble task. (Translation: The following story is about one Hofstra Law graduate's quest to end complicated and verbose legal language.)
For decades, the legal community and consumers have been accustomed to stilted and opaque legal language, replete with "hereunders," "hereto" and "notwithstandings" that seemingly lend authority to legal briefs, opinions, credit card terms and the like. But Bill Burton '74 has long advocated for clear and concise legal writing free from the stylized legal gibberish that has been so ingrained in the legal community.
---
Hofstra Law Co-Hosting Conference to Explore Financing and Delivering U.S. Health Care
The United States faces social, political, economic and health burdens as a result of uninsured and underinsured residents, but the future of U.S. health care reform is uncertain. Many other nations, while having long ago achieved universal coverage, have experimented over the past few decades with a spectrum of organizational innovations as they have grappled with issues of cost, quality and persistent health disparities.
On March 11-12, Hofstra Law will join the School of Education, Health and Human Services; the College of Liberal Arts and Sciences; the School of Medicine; the North Shore-Long Island Jewish Health System; and the Hofstra Cultural Center to host "New Directions in American Health Care." This conference will explore, from an interdisciplinary perspective, transferable solutions to continuing shortcomings in American health care finance and delivery and help set a research and policy agenda to ameliorate critical dilemmas in coverage, cost and quality of health care.
---
The Briefing
Why Litigators Should Be Looking Forward to Health-Care Reform
Potential upside of health care reform for the legal community? An increase in lawsuits.
The Wall Street Journal Law Blog

Do Lawyers Have 1st Amendment Right to Interview Jurors? 10th Circuit Says Maybe
In a novel case sure to catch the attention of trial lawyers and researchers, the Denver-based 10th U.S. Circuit Court of Appeals says that attorneys may have a First Amendment right to interview jurors involved in trials in which they did not participate.
The National Law Journal (via ABA Journal)
Scalia Opines on Right to Secede in Letter to Screenwriter
Justice Antonin Scalia weighs in on whether states have the right to secede from the union. The question arose after Texas Gov. Rick Perry told a tea party rally that Texans could get so fed up with big government that they may some day seek that option.
ABA Journal

---
Hofstra Law in the News
Alumni
David Weprin '80
Former City Councilman David Weprin won a special election for New York state's 24th Assembly District seat, garnering almost 62 percent of the vote. Queens Courier
Joel Segal '89
Business Insider's Law Review did a roundup of top sports agents, with Joel Segal '89 ranking in the top 10. And that was before his client Reggie Bush helped lead the Saints to their Super Bowl XLIV win. Business Insider
Paula Hepner '97
Judge Hepner was recently reappointed as supervising judge of Kings and Richmond County Family Court by New York City Mayor Michael Bloomberg. Brooklyn Eagle
---
Faculty
Cut the Lawyer Out of Your Will?
Joanna Grossman advises that using an online will makes sense if your finances and circumstances are uncomplicated.
Kiplinger
Hanging a 'For Sale' Sign Over the Judiciary
James Sample warns that corporate contributions will polarize the judiciary because more moderate candidates are unlikely to be considered a bankable vote by special interest groups.
The New York Times
A Legal Puzzle: Can a Baby Have Three Biological Parents?
Janet Dolgin says current legal thinking is deeply divided over how to judge what makes a family.
The New York Times
---
News@Hofstra Law
Students Coach Mock Trial Team to First-Round Victory
Coached by a core group of Hofstra Law students, the Hempstead High School Mock Trial Team won their first round in the New York State Mock Trial Tournament on February 9, 2010.
Improves Five Places in Law Journal Rankings
The Hofstra Law Review is now ranked 65th out of more than 1,000 law journals, a five-place increase from last year.