In This Issue
---
Events
Hofstra Labor & Employment Law Journal Reception
Wednesday, January 27, 2010, 6 p.m.
Jackson Lewis LLP, 59 Maiden Lane, NYC
Register
2010 In Honor of Justice Dinner
Thursday, January 28, 2010, 6:30 p.m.
Hilton New York Hotel
Register
Black Law Student Association (BLSA) Alumni Event: "How to Become a Successful Attorney: A Diverse Perspective"
Thursday, February 18, 2010, 6 p.m.
Hofstra University Club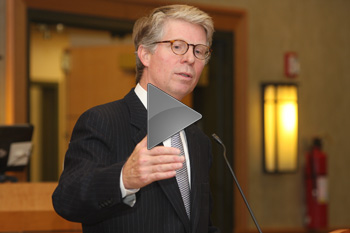 Cyrus Vance at Ethics Conference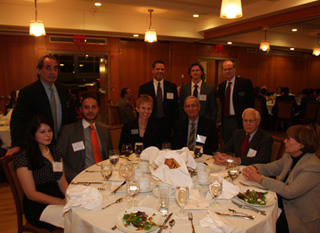 Donor Appreciation Dinner

Collaborative Law Conference

Ethics Conference

JIBL Conference
---
Classroom to Career
On January 8, 2010, Hofstra Law School held its first-ever 1L Professional Development Boot Camp. The program, which officially launched the School's Classroom to Career (C2C) professional development initiative, marks an exciting new chapter in the preparation of Hofstra Law students for life beyond law school. More than a dozen Hofstra Law alumni and other members of the local legal community volunteered their time to assist with various aspects of the Boot Camp. Full Story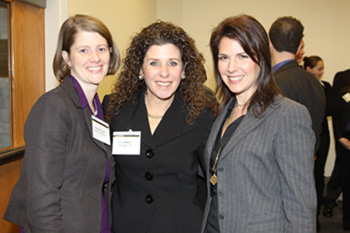 Allison Shields, Jane Myers '79 and Victoria Drogin '90 at the Professional Development Boot Camp.
Alumnus Appointed to Israeli Supreme Court
Last summer a revolution happened in Israel's judicial system, and Neal Hendel, Hofstra Law School '76, was at the center of it.
For years judicial appointments to Israel's Supreme Court were political. The country's minister of justice and president of its Supreme Court wielded their power and influence to select like-minded judges. But on August 26, 2009, Hendel became one of three new Israeli Supreme Court justices who, for the first time, were not appointed solely by the minister of justice or president of the Israeli Supreme Court. Instead, a judicial selection committee of justices and politicians unanimously agreed on the selection of Hendel, along with Judges Uzi Fogelman and Yitzhak Amit.
---
In the Vanguard of Collaborative Law
Collaborative law, a voluntary dispute-resolution process that has its roots in divorce and family law, is expanding to other practice areas of civil law, such as disputes involving estates and small businesses. Hofstra Law School has been a leader in the development of collaborative law since 2006, when Professor Andrew Schepard was appointed by the Uniform Law Commission as the reporter for the Uniform Collaborative Law Act.
---
Law School News
Professor Andrew I. Schepard Receives ABA Lawyer as Problem Solver Award
Hofstra Law Professor Andrew I. Schepard has been named a recipient of the Lawyer as Problem Solver Award from the American Bar Association's Section of Dispute Resolution.
Study Abroad Program in Curaçao Experiences Record Enrollment
Boasting the highest enrollment in its eight-year history, the Comparative and International Law program in Curaçao included 69 law students from across the world — a 35 percent increase from last year.
Hofstra Law Juris Doctor Accredited by Bar Council of India
Hofstra Law has become the first law school in the New York City area to receive accreditation of its Juris Doctor (J.D.) as an approved foreign degree by the Bar Council of India. 
The Briefing: News Lawyers Can Use
Public Relations, Marketing Strategies Vital for Firm Success
Sending a press release into the ether is no longer enough. Many lawyers fail to build a cohesive brand because they do not have the time and expertise to successfully market their firms. It is now vital for law firms to implement effective public relations campaigns in order to build public reputation and attract clients. ABA Journal (1/7/10)
Looking to Make a Lateral Move?
According to some recruiters, law firms are making plans for a recovery. Not a fast recovery, but a recovery nonetheless. Recruiters are predicting an uptick in lateral movement in 2010. The Recorder (12/29/09)
ABA Still Lobbying for Loan Relief
The Obama administration and Congress have refused to accept a proposal from the American Bar Association to help some recent law school graduates defer their student loans. But that doesn't mean the ABA has stopped pushing. The Blog of Legal Times (12/24/09)
Would You Pay $1,000 an Hour for This Man's Time?
Because all things legal come with caveats, here is one: Not all lawyers make as much money. Many attorneys — among them public defenders, prosecutors, lawyers for nonprofits and many federal-government lawyers — earn salaries below $100,000. But attorneys at corporate law firms and successful plaintiff's lawyers can have big paydays. The Washingtonian (12/1/09)
Paralyzed Veterans of America Announces Legal Writing Competition
The nationwide contest is designed to encourage debate within the current and next generation of the legal profession on public policy issues affecting today's veterans. The topic for this year's competition is Adjudication within the Department of Veterans Affairs: Judicial Independence, Quality Control, Consumer Perception and the Paradoxes Present in the VA's System of Administrative Adjudication. PVA.org
---
Alumni in the News
Joanne Goldstein '74
Goldstein appointed secretary of the Executive Office of Labor and Workforce Development in Massachusetts. Bay State Banner (1/7/10)
Ed Mangano '87
Profile of the Hofstra Law alumnus who won the election for Nassau County Executive in a stunning upset. 
John Ciampoli '84
Mangano names another Hofstra Law alumnus, John Ciampoli, as county attorney. Newsday (registration required) (12/17/09)
---
Class Notes
Katherine N. Lapp '81 joined Harvard University's Office of the President and Provost as executive vice president in October 2009.
Richard C. Schoenstein '91 has joined Pryor Cashman LLP as a litigation partner. He also hosted the Hofstra Law Review event "Piracy: From the High Seas to High Tech" in September 2009.
Andrez Carberry '05 recently joined Fox Rothschild LLP as an associate in the firm's labor and employment practice area. He served as one of the keynote speakers at Hofstra Law School's 2009 Accepted Student Day, sharing his experiences from when he was a student and providing the recent alumni perspective to the incoming class of 2012. In February 2010, Carberry is serving on a panel at a BLSA event to offer success strategies for people of color entering the legal profession.
---
Faculty in the News
Court Backs War Powers Over Rights of Detainees
Professor Eric Freedman charges that an appeals court wrongly expanded government power — thereby poking a stick in the eye of the Supreme Court. New York Times (1/6/10)
Crisis in the Family Court
Professor Theodore Liebmann says lack of calendar availability in Family Court impacts kids' lives. The Crime Report (12/28/09)
The Filibuster and Its Discontents
Professor Eric Lane discusses how majorities rule in legislative bodies. Newsweek (12/22/09)
Consumer Watch: Breaking Up Is Hard to Do
Professor Norman Silber criticizes DirecTV's Byzantine sign-up procedures. Philadelphia Inquirer(12/6/09)
Beyond Citizens United: The Solution
Professor Daniel J.H. Greenwood discusses the Supreme Court's announcement that corporate campaign spending is protected by the First Amendment. ACSblog (1/21/10)