Message From the Dean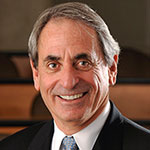 A career in the law is a career of service, not only to your clients, to whom you always owe your most diligent representation, but to the Constitution. No other private profession requires for admission an oath to support both the U.S. Constitution and the constitution of your state of admission. This oath makes you a public servant, duty-bound to protect the rule of law and the great constitutional values of human dignity, fairness and justice for all. And it has been lawyers' commitment to these principles that helped found this country and make it flourish.
Becoming a good lawyer requires hard work and real integrity. It is not for the intellectually incurious or the faint of heart. But through these efforts, you will be given the extraordinary opportunity to make a difference, big or small, in the life of your client and in the life of the country. This holds true whether your client is a large corporation or an impoverished individual.
At the Maurice A. Deane School of Law at Hofstra University, you will learn the law and how to use it to solve your clients' problems. On a broader level, you will learn what it means to be a lawyer. You will join a unique community of faculty and administrators dedicated to your success. You can judge our commitment to your learning by reviewing our diverse academic offerings and wide array of experiential-learning opportunities — clinics, practicums, externships, moot court programs and pro bono programs. Even better, come for a visit.
Your degree from Hofstra Law can lead to a broad range of career possibilities, expected and unexpected. Hofstra Law-educated lawyers have built successful careers at multinational law firms in New York City and across the country. Our graduates have become founding and managing partners of some of the nation's most prominent law firms. Others have held public office in state and federal government or have spent their careers working on behalf of individuals through direct advocacy or policy-reform initiatives at nonprofit organizations. Still others have put their degrees and experience to work outside the practice of law — for example, as a college president, as the head of a professional baseball team and as successful entrepreneurs.
Hofstra Law is a place of opportunity and excitement. We are just 40 minutes from Manhattan and the epicenter of the legal and business worlds, and our home county, Nassau, boasts one of the most vigorous and varied legal bars in the nation. I can promise you that your time at Hofstra Law will be challenging and transformative and that you will leave here ready to meet the challenges of an ever changing profession.
Eric Lane
Dean and Eric J. Schmertz Distinguished
Professor of Public Law and Public Service